IoT is in connecting devices and industries for better connectivity and communication cause. IoT technology is growing at an unstoppable rate adopting the current advanced technology aspects. 
"Using the sensors, smart beacons, smart devices, and IoT processors, the production part of every process is changing the way it was working earlier." 
The new IoT trends cover 5G technology, Edge Computing, Smart Stores, Smart Cities, Increase Security Concerns, etc. You must opt for the top-most IoT app development services and should make your business smart and more productive. 
Overview of M2M communication 
Talking about M2M (Machine-to-machine) communication that it helps machines and devices to pass important information to other machines. This covers alarms, smart buildings, serial connection, smoke detectors, powerline connection, and more such. 
We can say that any two machines that are exchanging data or communicating without the involvement of humans. You might be thinking about how this machine-to-machine communication works! Don't worry! We are here to help you.
Working on M2M Communication
The working of the machine to machine communication can be described in simple words as it consists of two devices that make use of hardware for allowing access on diverse networks.
For this cause, they use the same IP network protocols that are used for exchanging data traffic on the online platform. M2M refers to the devices and sensors that can collect as well as exchange information. 
Brief information about IoT with current market trends
The trends of IoT cover big data convergence, greater consumer adoption, Blockchain IoT security, and more such are evolving with the increasing days. IoT app development is booming like anything in the market.  The IoT market is going to reach a value of USD 1256.1 billion till 2025 from USD 690 billion in 2019 at a CAGR of 10.53% between 2020 and 2025. 
How does it work 
The working of IoT can be explained as the whole process starts with the devices that consist of built-in sensors. All these devices are connected with IoT platforms and store data inside from all the connected devices. The imperative data is used for executing different tasks that will fulfil all the requirements of people.
When the data is stored inside the IoT platforms that means that all of the data is useful. Different devices choose selected data that is relevant to execute an action. That piece of information can identify patterns, types of problems, and different recommendations before they appear. This way, IoT works with smart devices and automates diverse tasks for matching user needs. 
Most-used IoT services 
AWS IoT platform 

IBM Watson IoT platform 

Microsoft Azure IoT Hub

Google Cloud Platform 

Oracle and more such..
Popular IoT applications 
Health and Fitness

Smart Homes

Smart City

Smart Cars

IoT in Farming 

Smart Retails 

Smart Grid and more such
Major differences or complementary aspects of IoT and M2M –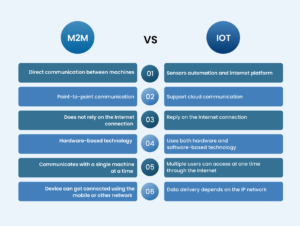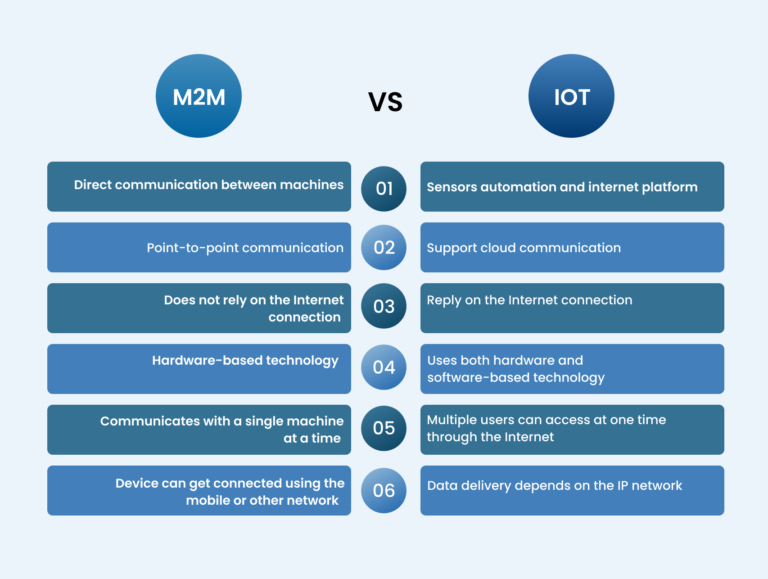 Remote Access
The role of remote access in Machine-to-machine combination is transferring the business operations by allowing them to monitor and handle machines or equipment remotely. The important aspect of M2M is that can connect any device to the cloud and then the particular business can handle the device and can collect them remotely. 
IoT is a huge market and its technology is used for customers and enterprises both. Customer IoT helps in connecting people with the devices and permits them to get remote control on the devices. On the other hand, enterprise IoT allows the extra benefit of allowing asset tracking and managing. 
Business Performance 
 The most important thing about any app in technology is its data-centricity. The given connectivity and data of the devices can take feedback based on their performance and user experience.  
The connectivity aspects for M2M and IoT offers to allow for the analytics collection and vital insights that any business can use to get benefit in the enhancement of their systems. 
M2M is fully depending on the point-to-point communication using hardware components that are placed inside the machine. On the contrary, the Internet of Things relies on the standard IP networks for interfacing the device data on the cloud or to the middleware platform. 
Connectivity
The connectivity of both M2M and IoT differs in their aspect. IoT is more into the device connectivity and it is the whole network of connected devices. 
"M2M has isolated systems of sensors and remotely collected and measure data, IoT connects different systems into a brand system for allowing new apps." 
Data Delivery
Talking about machine-to-machine data then it gets directed towards performing a one-off task that will enhance the overall device maintenance. It is not a simple M2M project that is used for transferring and collecting insights and integrating them into a huge framework. 
IoT consists of massive opportunities when it is about data visualization and data analysis. In this, all of the information gets collected by a sensor and then gets integrated into an analytics system.
In the analytics system, the information can be compared for gathering data from different sources, break down into insights, and analyzed. This is the reason for which the IoT is mostly used by businesses and give rnments for improving the efficiency of their team and boosting the forecasting abilities of their organization. 
Communication channels & application
For communication and channels, M2M makes use of point-to-point communication in which machines and hardware devices and sensors use modems for accessing cellular and wired networks. 
For the communication and application of IoT, it has the IoT sensors that use IP network protocols that are widely utilized to transfer data traffic on the Internet. 
Scalability
M2M communication offers a wide number of integration options and for communicating, the devices need to be compatible. That's why it is not possible for two different machines having different technical aspects to get connected via M2M. Here comes the use of small-scale apps like maintenance and more such. 
IoT is specially designed to have large-scale interaction in mind as the developer provides a solution for managing communication and for the nature of devices. For IoT, there are no hardware-based integration limits for implementing IoT. 
IoT VS M2M – Which one to pick 
Again, it depends on the need of your enterprise as both have their special key features, advantages, use cases, and real-world examples. The major difference that we can say in between these two is the access model. 
When you are comparing M2M development and IoT development, then you must not forget that M2M makes use of point-to-point communication, on the other hand, IoT depends on a connected IP-based network for sending data from a remote device to the cloud, gateway, and more such. 
Wrap Up
It is vital to understand that both machine-to-machine communication and IoT are not similar technologies. Both offer device-to-device communication, gathering of data, and storing the data, human supervision, and more such.
All these vary as per the connectivity and company goals. If you are confused between M2M and IoT then this article will help you in choosing anyone as per your business needs.