Machine learning has emerged as a must-have trend for ecommerce businesses today.
If you're an eCommerce store owner, you need to know why machine learning is growing in popularity.
When integrated into marketing and other strategies and operations, machine learning offers many game-changing advantages with its powerful capabilities.
As a result, you can significantly increase your conversions and sales, augment your efficiency, improve customer engagement, and much more.
That makes machine learning and their capabilities worth studying. Doing so helps you apply its concepts dynamically in your business.
If you haven't found substantial reasons on why you should learn machine learning, allow me to share four reasons to learn machine learning.
Let's dive in.
1. Machine Learning Enhances item Searches.
Machine learning improves customer shopping experience through relevant and precise item searches.
Here are two examples:
a.  Intuitive Word Query
When you enter a "red dress shirt under $20" on an eCommerce store, you expect to see results resembling a 20-dollar red dress shirt, right?
You'd probably say, "yes."
However, if the results showed black dresses or 30-dollar red t-shirts, you'd probably feel dismayed.
You'd wish the search mechanism thought as humans do, so it can give you precisely what you're looking for.
Thankfully, machine learning can understand you.
Use tools like Twiggle. 
Through machine learning and natural language understanding, Twiggle makes direct connections between your customers' search and your product information. 
It can comprehend keywords you usually use to describe an item, like product type, color, price, material, and more.
Even when you don't mention the keywords, Twiggle still has a clear grasp of your search. It can understand dimensions, synonyms, use cases, and other linguistic aspects.
Twiggle, with its machine learning capabilities, continues to self-learn and evolve as our human linguistic phenomena also change.
Such an unsupervised learning capacity of machine learning is not only powerful but also beneficial as you serve more customers and obtain more data.
If you study machine learning, you can also uncover how to make relevant, customer-centric searches like Twiggle did, and more.
To study that field, you can enroll in a machine learning online certification training course. 
In that course, you will learn concepts and practical applications, such as forecasting fare and customer privileges.
Mastering these skills may take time and effort, but if you persevere, you may even build tools like Twiggle suited for your business.
b. Visual Search 
Visual search allows you to find an item with images if you're having a hard time searching through keywords. 
Take a look at a tool called Syte:

                                                                                                                                    Image Source:
Syte
With Syte, you can find similar items from the e-commerce store by taking a photo or uploading one.
Through machine learning, along with image detection, Syte recognizes attributes like color, size, similarity, etc. 
It can even recommend similar products or ways to wear the item, and your customers can purchase right after the search.
Visual search helps your customers find and buy desired items with less hassle and delay, thus increasing your sales and conversions.
2. Machine Learning offers Customer Support Online.
As a business owner, you recognize that customer support is a crucial aspect of your business. However, you may be limited to attending to queries in real-time when you're offline.
Fortunately, machine learning helps you continue providing online customer support through chatbots.
Through machine learning, chatbots can respond to complaints and answer queries like a human being would.
They can even give relevant answers because they learn how humans behave and interact.
Here's an example by LiveChat:
LiveChat chatbots can analyze the sentences, so they know what your customers are asking for. 
From keywords, product, and user information, etc. stored in their memory, they can answer FAQs and interact intelligently.
They can even speak the way humans do. Your customers might not even know they were talking to a robot.
Chatbots help you be more efficient because they allow you to automate your live chat 24/7. 
Automating your live chat enables you to focus on other important matters without worrying about your customer support.
3. Machine Learning Optimizes Emails for Marketing.
Machine learning optimizes your emails in many ways to help you convert your leads into customers.
It helps you personalize your emails and promotional offers, automate the delivery and split testing of emails, and more.
One machine learning tool, for instance, is Phrasee. 
Phrasee uses machine learning algorithms to enhance the language employed in your email subject lines.
Taking off from your campaign name, Phrasee creates and proposes subject lines, and lets you pick which one you liked best.
It even automates split tests for these subject lines for you to see which ones yield the best results.
By split testing, a million subject lines and measures the responses made, the learning machines of Phrasee can predict which language and emotion will garner the most clicks and opens.
When that happens, you can get more conversions and sales for your business.
4. Machine Learning Recommends Intelligently.
Machine learning continually learns from truckloads of data it obtains. 
That is why it can intelligently provide recommendations that are tailored-fit for your customers.
Take, for example, eBay. I clicked on a powder pink hoodie sweatshirt for women, and it recommended these items below: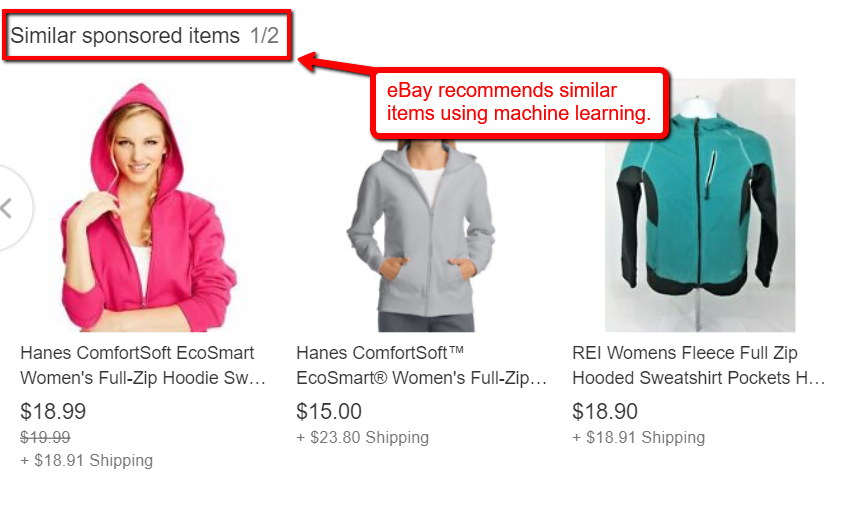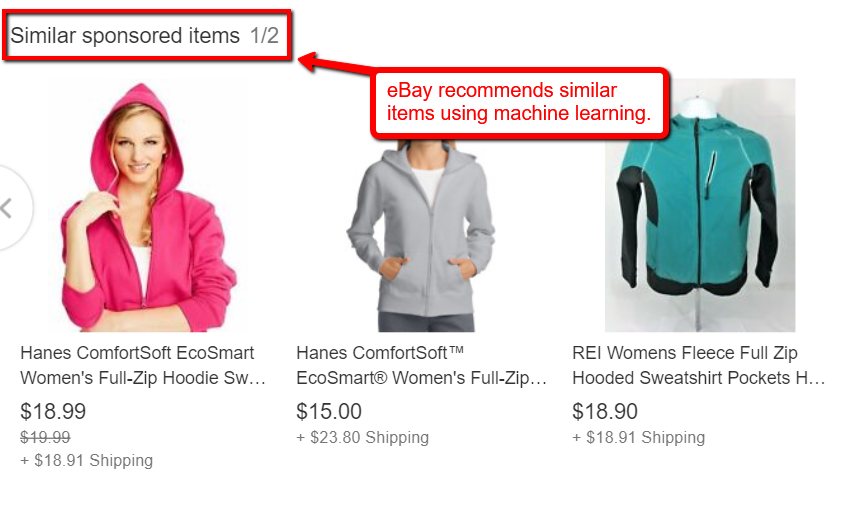 eBay uses machine learning algorithms to identify products in listings, discover similar items, and rank its suggestions.
As such, it suggested other hooded sweatshirts but in different colors: magenta, grey, and blue-green, among others. 
When your customers see these recommendations, they will be enticed to explore them because they feel that the items still suit their preferences and interests.
They will then consider adding these items to their cart or choosing them instead of the first selection.
Machine learning makes intelligent recommendations useful because they are not based on random and unrelated feedback but real customer data.
Personalized recommendations, in this way, help you boost your sales and conversions.
Learn Machine Learning Now.!
In this age of AI, there's never a better time to learn machine learning than now.
Many machine learning technologies have emerged, giving you more reasons to study their capabilities yourself (and the ones listed are only some of those reasons).
Studying these capabilities allows you to tailor-fit them according to your specific business needs. Machine learning can also give you a significant edge over your competitors.
Think this post was helpful? Do share it with your colleagues. Cheers!