You can integrate Artificial Intelligence (A.I.) in just about everything, nowadays — cybersecurity is no exception.
In fact, when you include AI into your cybersecurity measures, such as penetration testing, for example, you'll find that your network becomes even more robust.
To give you a better perspective of what AI can do for your penetration testing, allow me to share with you several points about the subject matter.
However, before that, let's start with the basics.
What is penetration testing, anyway?
Penetration testing (pen testing for short) is the process of testing networks, systems, or web and mobile applications, among others, for cybersecurity purposes.
You subject your IT ecosystem to "pretend hacks," so you would know how strong or weak your cyber defences are. You can also find effective ways to bolster them.
Pen tests are conducted to check for loopholes and vulnerabilities that cybercriminals can hijack and exploit for profit or some other ill motive.
Besides assessing your defences, penetration tests let you review your cybersecurity policies, risk management and data recovery plans, employee training, compliance with cybersecurity laws, IT budget, and more.
Penetration testing is also known as ethical hacking or white-hat hacking since the pen testers are cybersecurity experts or the "good guys" attempting to breach your defences.
They can do so virtually or physically going to your office. After completing the test, the experts report to you their findings and recommend remedial actions.
Pen testing can be done by humans or — you guessed it —  AI.
Advantages of AI Pen Testing
AI offers several advantages when experts apply it in pen-testing. 
While automation is an AI capability threatening humanity — or so people fear — AI streamlines pen-testing activities across your entire IT landscape, including your data. 
By automating some steps in pen testing, AI generates accurate feedback in a shorter amount of time — and accuracy in pen testing is exceptionally vital.

AI helps eliminate possible human errors in the process, such as data misinterpretation, evidence management, and correct documentation of results. 
However, even if pen testers don't make these mistakes, the operation becomes challenging when done at scale.
Pen testing requires substantial amounts of time, effort, and other resources when testing software and programs. 
Given the rapid evolution of present-day processes, though, sustaining efficiency in pen testing at scale is harder without the help of AI.
AI in Pen Testing
Pen test commonly begins with information gathering and ends with reporting the findings. In between are phases where pen testers handle truckloads of information, scans, and others.
That said, let's look at how AI can enhance various phases of pen testing. 
Reconnaissance
Reconnaissance, also known as Open Source Intelligence (OSINT) gathering, is the most crucial phase in pen testing. 
It is where pen testers collect as much relevant information as they can about your company and potential entry points for threats.
Here, pen testers can work with AI to automate info collection and yield accurate results. 
They also apply a combination of AI and its subsets like natural language processing and computer vision.
AI is useful in extracting information and building a profile of your company, employees, current cybersecurity condition, and other components of your IT landscape.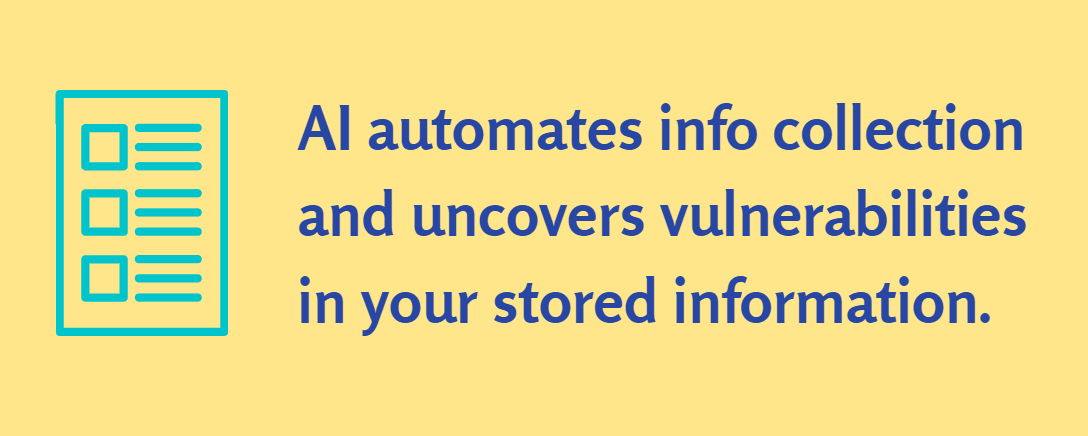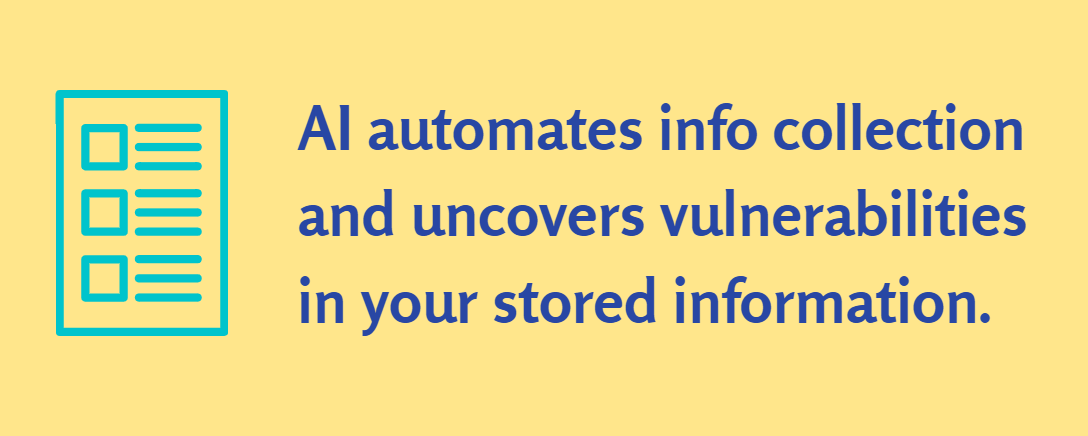 Pen testers also employ AI to go through an expansive list of critical information you hold and assess its susceptibility to being stolen.
This info ranges from names, contact numbers and addresses, account credentials to financial figures of your company, executives, employees, and customers.
If you have a dropshipping business, for example, AI can even review your customers' names, contact details, credit card numbers, and other details you may collect from them.
That is why one of the frequent dropshipping questions relates to its legality and customer safety. 
As a dropshipping business (or any other kind for that matter), you must be careful with the type of information you gather from your shoppers.
Hackers can exploit them if they are easily accessible, and AI will assist pen testers in uncovering vulnerabilities in your stored information.
Scanning
Extensive coverage is crucial in scanning — and in such a phase, manually scanning hundreds or thousands of systems won't do.
Interpreting results presented to you by the scanning tools aren't ideal either.
However, pen testers can employ AI to modify the code of the scanning tools so that they examine systems and interpret results.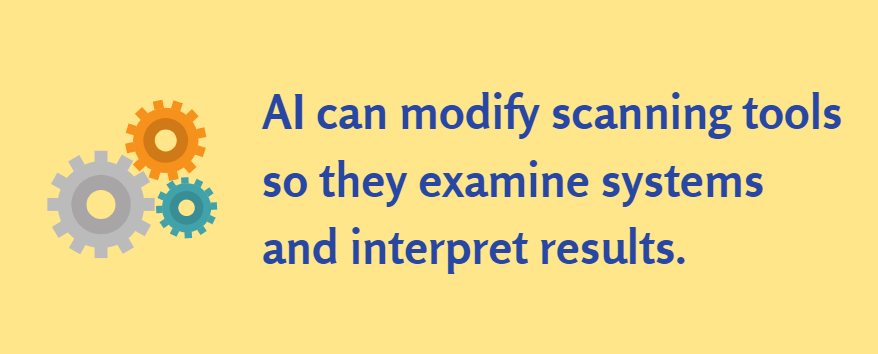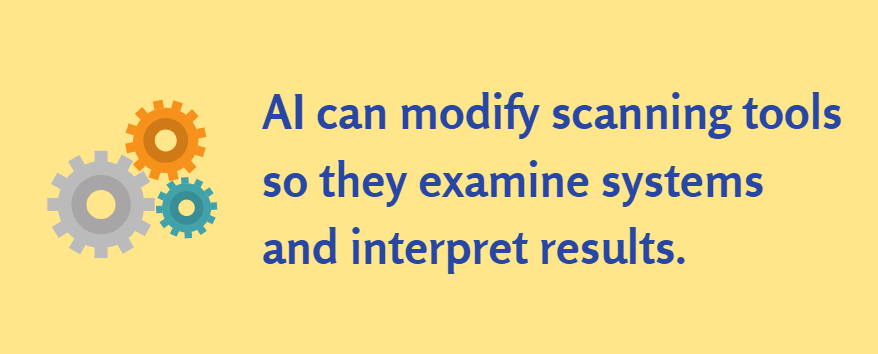 Doing that shortens the time pen testers spend on scanning numerous systems and return of feedback.
Besides that, AI can turn its attention to managing tests and creating test cases, which automatically reviews if specific programs can be identified as having security glitches.
Pen testers may also use AI to inspect how your systems respond to break-ins.
Gaining and Preserving Entry
The gaining entry phase entails taking over one or more network devices for either of these purposes: obtain data from you, or manipulate the device to invade other targets.
After your IT landscape has been scanned for vulnerabilities, pen testers must guarantee your systems have no entry points for cyber attacks.
They must verify that your network devices are guarded by robust passwords, usernames, and other credentials.
Cybercriminals, after all, can manipulate any Internet-connected network device. 
They can even hack your smart coffee maker, for instance, and other WiFi-enabled appliances that have no passwords.
AI-powered algorithms can, hence, test various password combinations to know if your systems and gadgets are susceptible to breaches.
Pen testers can also train AI to study user data, recognize patterns and trends, and infer possible passphrases used.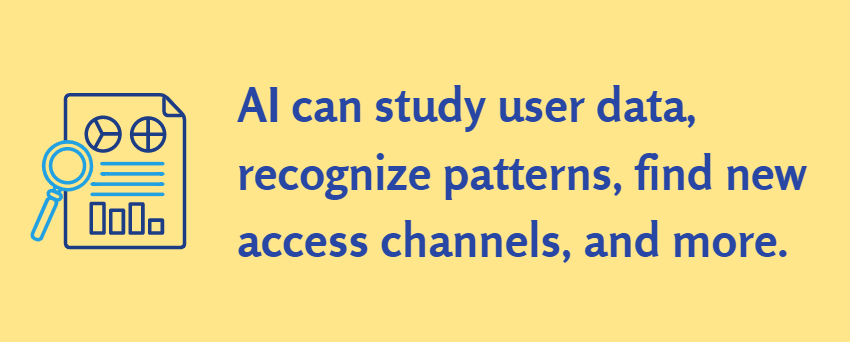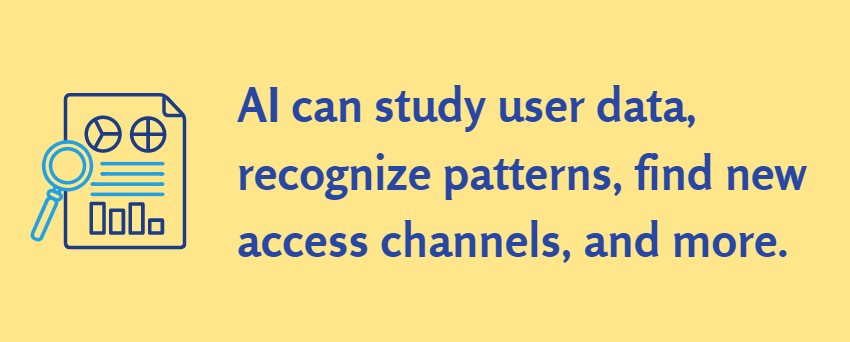 On the other hand, the maintaining entry phase concentrates on organizing other access points for your networks.
Pen testers, in this phase, trigger tools and verify your cybersecurity when invading your network.
They must run AI-powered algorithms at even intervals to make sure that the main paths to your device are closed.
AI must then be able to find and reveal backdoors, encrypted channels, new administrator accounts and access channels, and more.
Track Covering and Reporting
This last phase analyzes if a cyber hijacker can eradicate all evidence of his attack. 
These hijackers often leave traces in present access channels, user logs, and error messages due to the intrusion.
AI-based tools can help unearth concealed backdoors and multiple entry points still unopened on the target network. 
AI also assists in developing metrics, locating network infrastructure, and reporting their findings.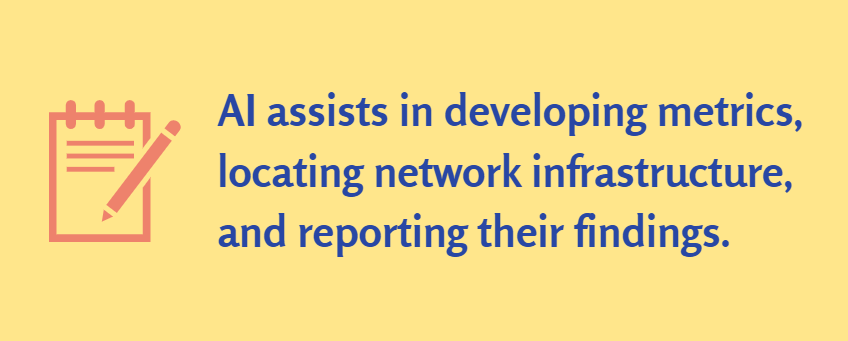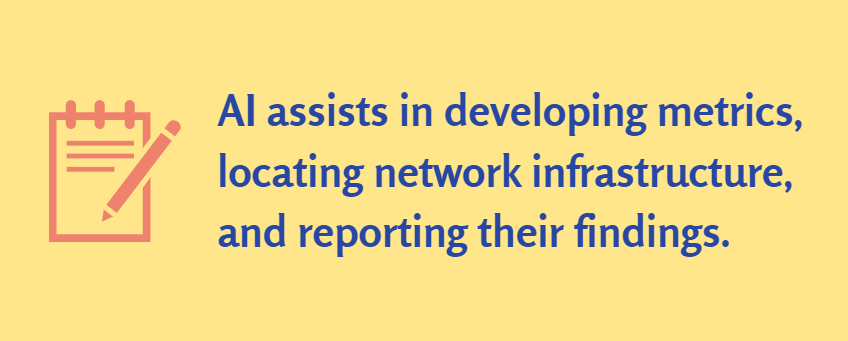 Conclusion
Penetration testing is an essential cybersecurity mechanism for businesses to take. The larger your business is, the more you need to do it, and the more AI can assist in the process.
With AI, penetration testing becomes simpler to perform regularly and at scale. AI streamlines the process, eradicates human errors, and achieves accuracy.
As pen testers embrace AI's capabilities, they will see AI prove itself to be indispensable in the operation and securing your business from cyber threats.
Was this post helpful? Share this post along with your thoughts to your colleagues. Cheers!