People lose millions of photos and videos every day either by accidentally deleting them or completely formatting the Storage media. And I guess you are one of them as you are looking for the right software to restore your previous photos and videos. Let me tell you; you are in the right place. Stellar Photo Recovery is the best photo and video recovery software that can recover almost every photo and video format.
In this review, we will discuss the stunning features of Stellar Photo Recovery.
What is Stellar Photo Recovery, and why you need it?
Stellar Photo Recovery is a DIY media recovery software designed to help you recover your lost media files. It supports a wide variety of formats. It is an easy-to-use software that does not require its user to have any technical knowledge.
Now the question arises why you need this software?
As we are only humans and mistakes do happen, this can include accidentally deleting the media files or formatting the media storage, or in the worse case, files got corrupted by a virus. At this point, you need a media recovery software for which Stellar Photo Recovery got you covered.
You can do media recovery from CF cards, SD cards, XQD cards, flash drives, HDD and SSD drives, and also from encrypted drives.
How to use Stellar Photo Recovery?
The UI is very simple and easy to use. The user does not need to have the technical knowledge to operate the software.
Once your software is downloaded and installed, you need to follow three steps to recover your lost data.
Step 1:
After you open the Stellar Photo Recovery, you will see a list of drives. Checkmark the drive you want to scan and then hit scan. You can minimize the software and do your other stuff while it is scanning for files. You can also perform the scan based on the file type; this will decrease the scan time.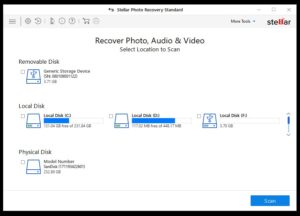 Step 2:
After the scan is complete, it will show the number and size of the files found on the scanned media drive. You can go through the folders and files and preview them. The files you want to recover hit the checkmark next to them.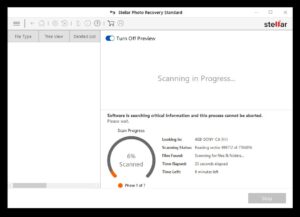 Step 3:
Hit the "recover" and select the folder where you want to store your recovered media. It doesn't take long to save the recovered media.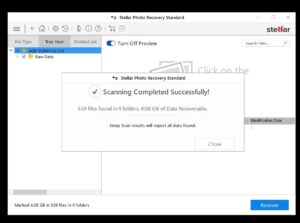 One of the best features of this software is that it creates scan history; this means that you can go back and recover different media files which you forgot to recover last time.
Pros
Supports various formats
It can be used with different storage media devices.
Preview data before recovery
Simple and easy to use UI
Effective at restoring data
Cons
It is subscription-based software.
Pricing
It is available for both Windows and Mac.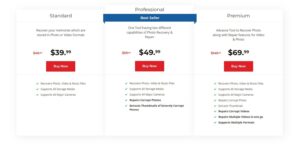 Three subscription packages are available:
Standard package: $39.99/ Year. Only recover media.
Professional package: $49.99/ Year. Recover media and also repair corrupted photos.
Premium package: $69.99/ Year. Recover media and repair both photos and video files.
It is also available in free download, where you can try the software and see its potential.
Conclusion
Stellar Photo Recovery is a fantastic software for photographers and videographers looking to recover files. It is straightforward to use, and its performance is impeccable. I can't recommend it enough.
Click the link to get yourself Stellar Photo Recovery software.