Many of us delete files and then, later on, clear the recycle bin and assume that all the files are gone for good. That is not even close to deleting any data. We all know that computer saves the data in 1s and 0s.
Any data like music, picture, document, videos are based on 1s and 0s. When we delete the data, the computer just forgets the listing of 1s and 0s that, when combined, makes that specific data.
Those 1s and 0s are still there and can be recovered by using any data recovery software. Unless you are moving your data physically or physically destroying that specific drive, your data can be recovered.
You need to delete your data permanently, and for that, you need DoYourData Super Eraser.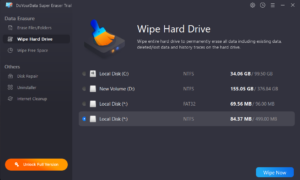 What is DoYourData Super Eraser?
It is professional software explicitly made to permanently delete your data from the storage. It offers multiple ways to delete files from the storage media. You can erase files/folders, wipe whole storage media, and even wipe the free space. Once you install and activate the software, you are good to go. You can use different methods to wipe the drive. The available methods are as follows:
 

HMG Infosec Standard 5 (1 overwrite round)

 

U.S. Army AR380-19 (3 overwrite round)

 

DoD 5220.22-M ECE (7 overwrite round)

 

Peter Gutmann's algorithm 2 (2 overwrite round)

 

Peter Gutmann's algorithm 35 (35 overwrite round)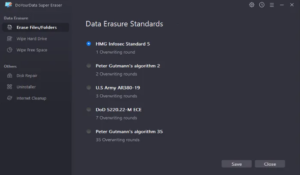 How does it work, and how to use it?
This software works on the five main methods mentioned above. These methods will overwrite the drive multiple times to ensure proper deletion of the data.
All these methods can be used to erase any files/folders, thoroughly wipe the drive, and even wipe the free space. This software also includes other useful tools.
 

This software can help you repair and format the existing partitions.

 

You can thoroughly uninstall any program, and this software will make sure that the uninstalled software does not leave any additional files which are usually left behind by standard uninstallation.

 

You can also delete internet junk files and traces with this software. The best thing about this software is that it can delete junk files from all the browsers that were ever installed on that computer.
Using this software is super easy. Users can try the free version to test out its features. The trial version is limited by ten files and two folders deletion only. You can purchase this software for $19.00 per year.
Launch the program and then click the storage media you want to erase completely.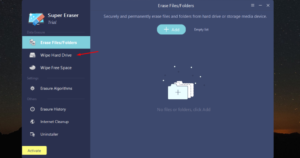 You can even find the drive's partitions if available and only select that partition rather than selecting the whole drive and then click wipe now.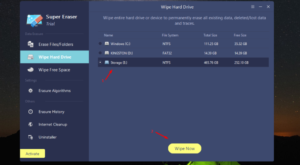 The time for permanent deletion will depend on the number of files and folders.

You should double-check the drive before selecting it because once software runs, there is no way to recover the data.
Conclusion
This tool is beneficial when you have sensitive data, and you want to get rid of it, but you don't want to destroy the drive physically. At this point, your best bet is DoYourData Super Eraser. At $19, it is available for a 1-year subscription. For $39, you can have this software for a lifetime! Grab yours today