The Industrial Internet of Things market revenue is expected to increase at a nominal CAGR over the estimated period. Developing smart cities and smart transportation will cause a high adoption rate in the Internet of things in the industrial sector. And different key elements predicted to drive the growth of the IIoT market in the estimated period.
The Global IIoT (Industrial Internet of things) Market Set for Fast Growth, to Strike Around USD 232.15 Billion by 2023-24
Introduction to Industrial Internet of Things
Utmost of you have probably heard the Internet of Things, or the IoT, mentioned but have yourself ever wondered what it implies and where it all originated?
How the Internet of Things applied to Industries?
A man is watching TV in his bedroom, suddenly his phone was ringing!. Then he takes his phone and went outside, but one thing you should observe in this scenario is TV was running. But nowadays TV automatically off, when a user not watching the TV.  You might be wondered right. This is because of the Internet of things revolution.
What is the Internet of Things(IoT)
IoT is a network of devices which are connected to the internet and perform tasks simultaneously.
The Internet of Things (IoT) is a network of elements which are connected to the Internet. These elements include IoT devices and IoT-enabled physical assets. IoT mainly used in smart home appliances, industrial assets such as oil, gas, machines, and robots. And also monitoring the crops with respect to the environment.
What is the Industrial Internet of Things (IIoT)

In recent days, the Internet of Things will shift towards the industries. And create a revolution in the Industrial sector such as smart power utilities, smart communication, robots are used in the manufacturing process. These all are the major and drastic changes in the Industrial sector. This is referred to as IoT in Industries or IIoT.
With the Industrial Internet of Things (IIoT), assets, sources, and manpower are connected like never before. Combined assets facilitate new business models and new customer engagement models that particularly focus on user-defined outcomes.
How the Industrial Internet of Things Will Work
The Industrial Internet of Things formerly described the IoT (Internet of Things). And it is used in several industries such as logistics, oil, gas and manufacturing, energy/utilities, metals and mining, and other sectors of different industries.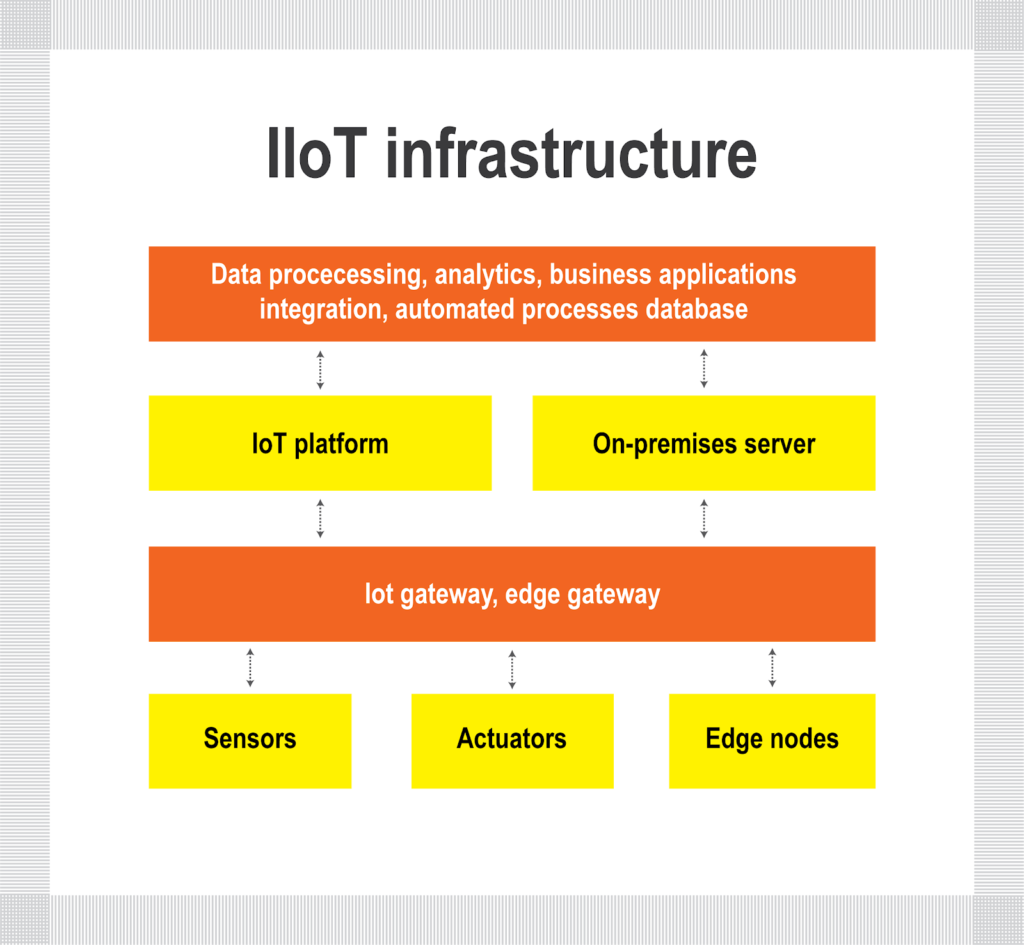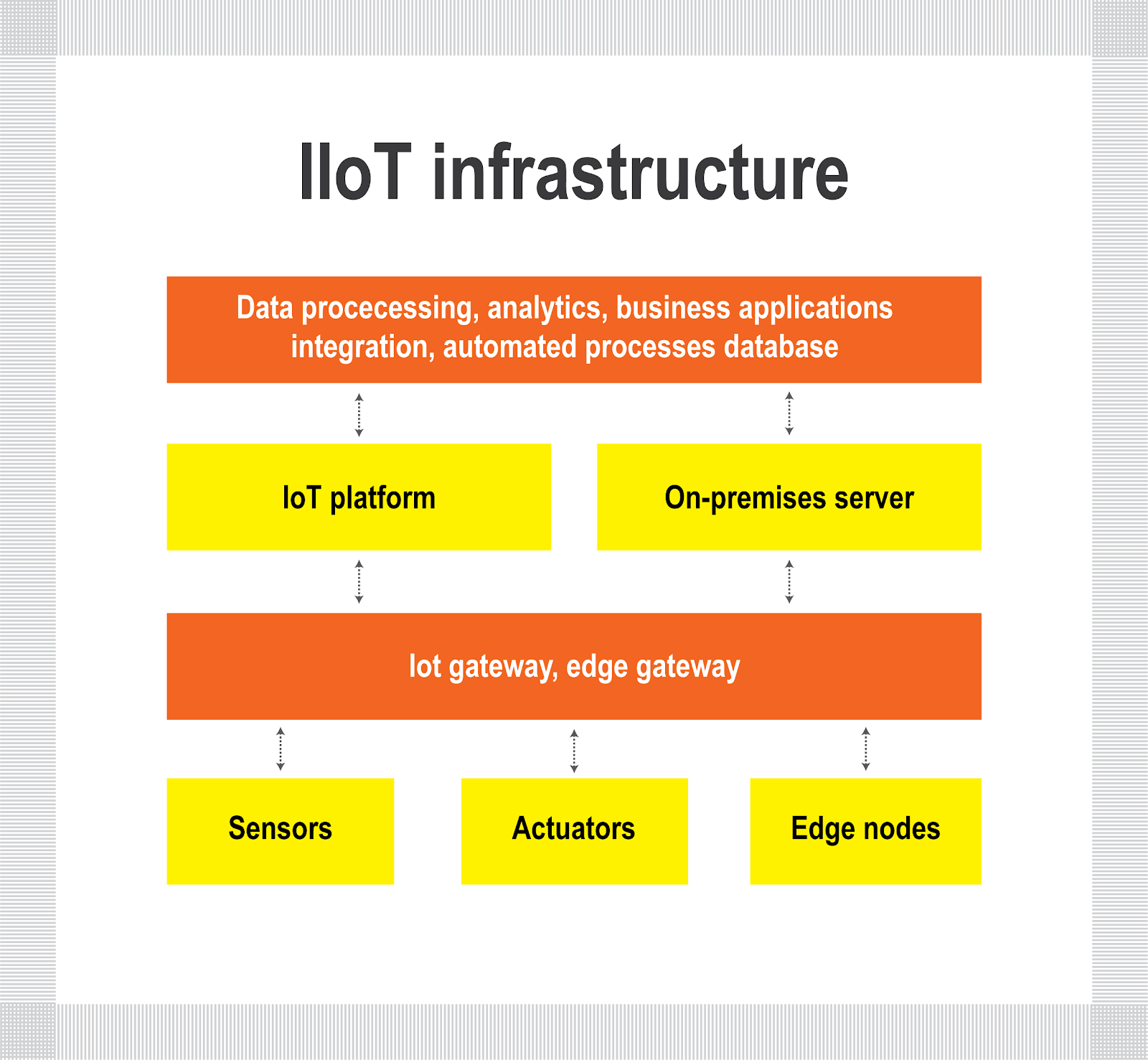 Industrial IoT is a type of network that consists of devices, and all are connected via technologies related to communication, to form systems that collect, monitor, analyze and exchange data, producing useful insights that prior to enabling industrial organizations to create smarter organization decisions faster.
Also identified as the industrial internet of things 4.0, IIoT combines machine learning and big data technologies to control the sensor data, machine-to-machine (M2M) automation and communication technologies that have endured in industrial surroundings for years.
An Industrial Internet of Things consists of the following devices mentioned below.
More intelligent devices—i.e. controllers, security components, sensors, and applications–that can communicate, store information and sense about themselves.
Data information infrastructure example is the cloud. Applications and analytics that generate company information from raw data.
IIoT vs IOT
Although the IOT and the IIoT have various technologies in common, including connectivity, sensors, data analytics, and machine-to-machine connections, they are used for various purposes.
IoT applications connect devices across multiple sources, including enterprise, health care, agriculture, utilities, as well as cities and government. IoT devices include fitness band, smart appliances and various applications that usually don't create emergency conditions if something goes wrong.
IIoT applications are connected devices and machines in such big industries like gas and oil, manufacturing and utilities. Downtime and system failures are high-risk tasks in IIoT can even result in life-threatening conditions. IIoT applications are generally used to improve safety and health sectors.
Industrial Internet of Things Applications and Examples
The IIoT used in smart robotics processes, robotics firms. Those all are connected with the sensors, and if any problems occur then IIoT sensors prompt information to the next level. The perfect example for this commercial airplane maker Airbus started IIoT in the manufacturing of airplanes, this is named as "factory of the future," and digital manufacturing process is to increase the productivity and boost the sales.
Industrial Internet of Things Applications
Another simple benefit is the development of field service. IIoT technologies help field service technicians identify possible problems in customer equipment before they become major issues, allowing technicians to correct the problems before they will do trouble the customers.
Product tracking is another IIoT advantage. Manufacturers, Suppliers, and customers can use asset administration systems to track the condition of assets, status, and location completely with the supply chain. The IIoT system will send immediate alerts to stakeholders if the assets/products are destroyed or high risk of being destroyed.
IIoT also enhances facility management. As manufacturing equipment is sensitive to tear and wear, as well as specific conditions within a company, sensors can monitor fluctuations, heat and other related factors that might drive to working conditions that are limited than optimal.
Conclusion
Industrial Internet of Things has created a huge revolution in the Industrial world. It is one of the great reason for the industry will soon become Industry 4.0. It is creating automatic systems in manufacturing sectors. Due to this productivity and profitability, both are increased similar manner. Because of the Industrial Internet of things (IIoT) the technology will go far more advanced than now.
Author Bio:
Anjaneyulu Naini loves pursuing excellence through writing and has a passion for technology. He believes in having a skill or talent is more valuable than having just a degree. He is Currently working as a Content writer at MindMajix.com. You can reach him at Twitter: Twitter.com/anjinaini