In a lot of ways, influencer marketing is pretty much like taking old school celebrity endorsements and applying it to the digital world.
In other words, businesses looking to promote their products and services are hiring people with a lot of influence on social media and letting them do some of the work for them.
And the kicker is – it works.
Influencers come in all shapes, sizes, and levels of celebrity status.
They might be an expert in a field, well-known in an industry, or have a lot of people that trust them.
But no matter what their background is, influencers are powerhouses on social media and have the potential to help you market and grow your business exponentially.
That's why we've created this quick, no-nonsense guide to influencer marketing to get you started on your way as an entrepreneur looking to scale your business.
So, what are you waiting for? Let's get started!
Why Does Your Business Need Influencer Marketing?
You might be thinking to yourself that you don't need influencer marketing. After all, you launched a startup business and you're doing just fine.
For instance, you spent a lot of time finding the perfect niche that's not too competitive but has the potential to be extremely profitable.
And when it comes to social media, you've established an online presence and drive plenty of people your way.
But what if you want to scale your business and become even more successful?
When you've exhausted all your marketing strategies, and are looking for a fresh way to boost business, that's when you know it's time to get into influencer marketing.
Influencer marketing offers the following benefits:
Build trust among your target audience using authoritative influencers that endorse your brand
Improve brand awareness and promote your content and products
Share influencer content to fill in your content calendar
Reach your target audience and beyond, opening yourself up to more sales opportunities
Give your customers added value
Boost your own SEO efforts and rank higher than ever
As you can see, influencer marketing has a lot to offer entrepreneurs looking to get ahead.
How to Get Started with Influencer Marketing
There are many steps to take when you want to get into influencer marketing. That said, we're going to outline the most important ones so you can get started right away.
1. Evaluate Your Buyer Personas
Brand storytelling is a powerful marketing strategy. A good brand story resonates with your audience.
The question is: how can you even make your story resonate with your audience if you don't know who they are?
Similarly, if you want influencer marketing to work, you have to have a strong idea about who your target audience is, first.
After all, it won't matter how "influential" your influencer is if they are promoting your brand to people that aren't interested in what you're selling.
Start by creating a list of your most valuable customers and finding out what they all have in common.
You can use a neat tool like Avatar Maker to create a visual representation of your buyer personas.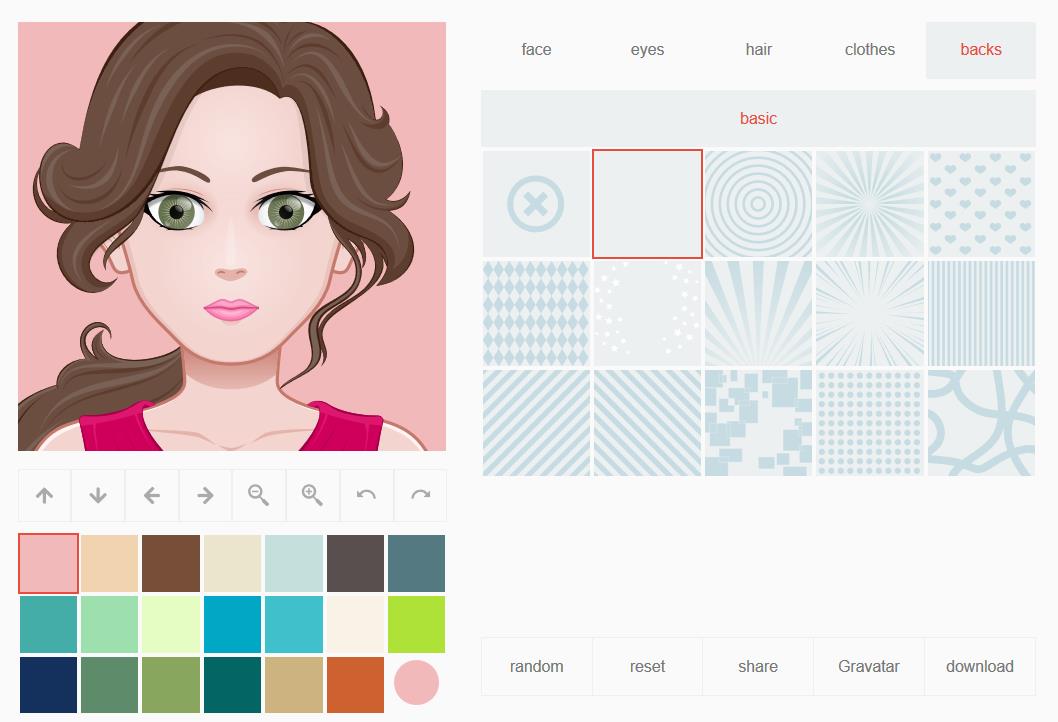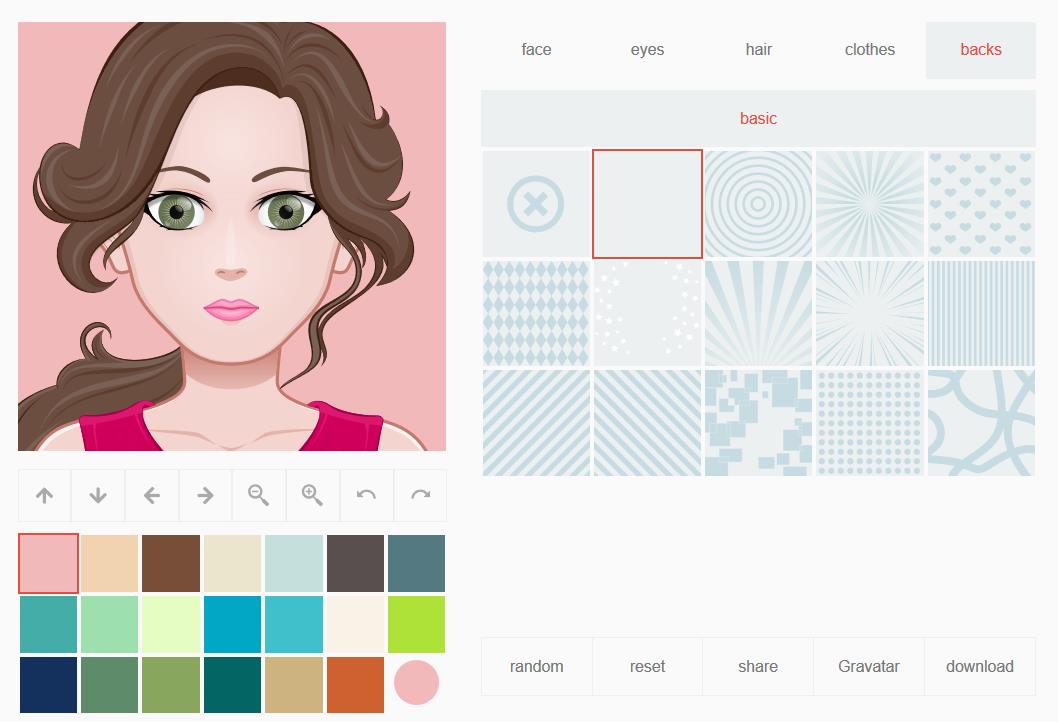 You can also use Xtensio to input data you collect about your buyer personas such as their interests, demographics, preferred channels (including social media platforms), frustrations, and more.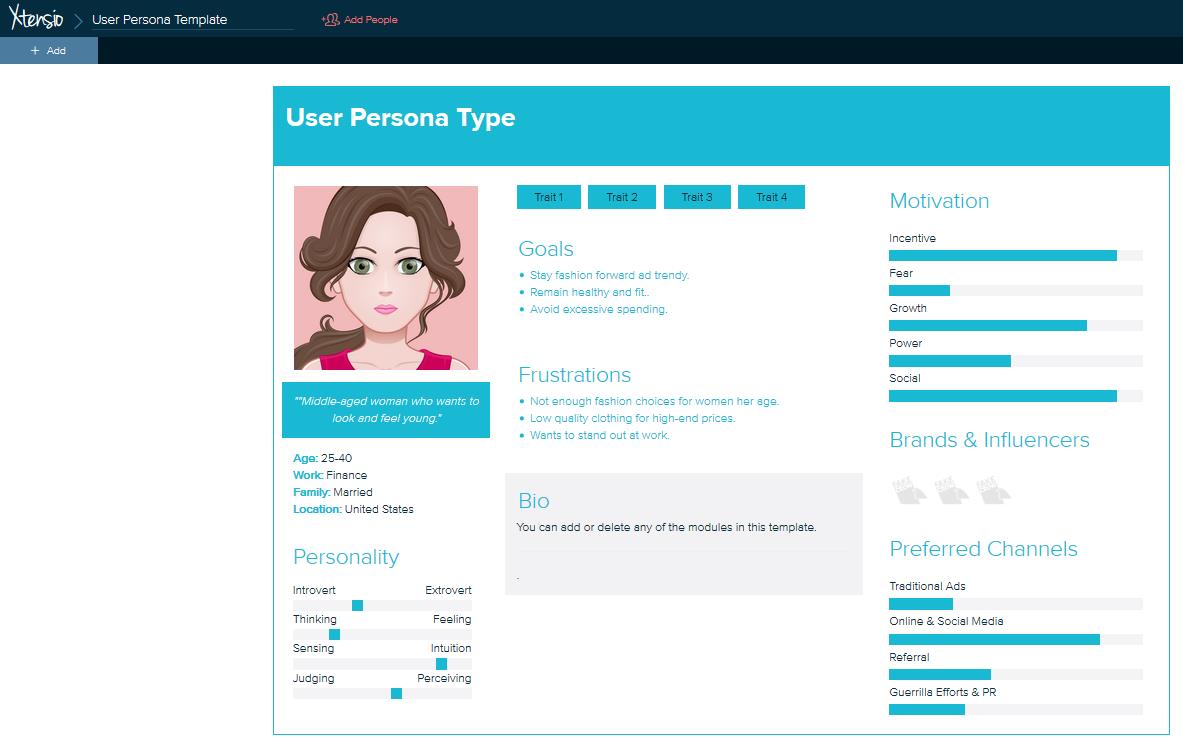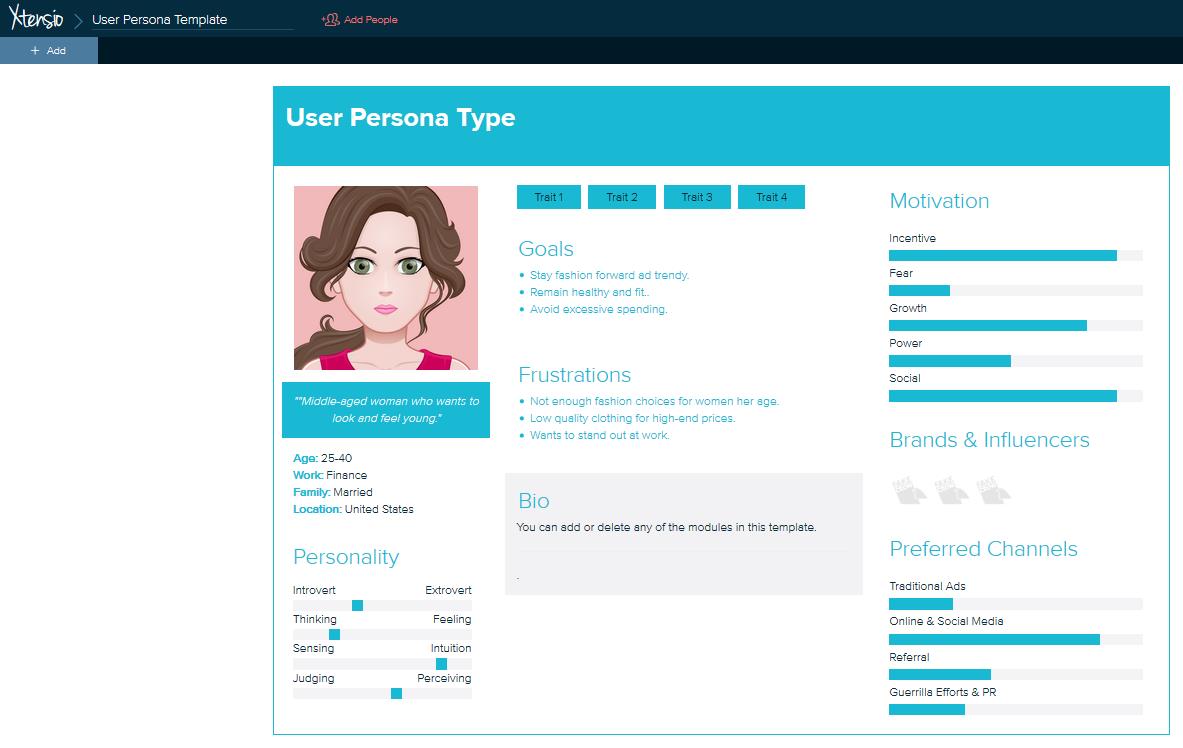 The great thing about Xtensio is that as you add influencers to your marketing plan, you can also add them to your individual buyer personas.
Remember, one influencer might not be enough to drive customers your way.
Different people will react to influencers in different ways, and it's your job to cater to that.
2. Learn About Influencers
After you know your brand's buyer personas, but before you start selecting potential influencers, it's a good idea to familiarize yourself with the types of influencers you can work with.
There are 3 types of influencers you can target:
Mega-Influencers: these are usually major celebrities with millions of social media followers. They should drive 2%-5% engagement per social media post and will give your brand the furthest reach possible. That said, they don't always resonate with customers as they sometimes seem out of touch with reality.
Macro-Influencers: these are people that are not usually high-profile celebrities, but because of their niche, have large followings anyways. These might include business executives, popular bloggers, and journalists. They should drive 5%-25% engagement per post and offer people relevant content that they can relate to.
Micro-Influencers: these are everyday consumers that may not have a lot of followers, but can drive 20%-50% engagement per post because they are exactly like your target audience. They might even be an actual customer of yours.
3. Find Potential Influencers
When it comes to finding influencers for your business, there are tons of tools and methods available to help.
Which ones you choose to use will depend on the social media platforms you hope to reach more people on, and your overall budget.
For example, start tracking hashtags on Twitter that your brand's content regularly uses to see if any influential people use those same hashtags.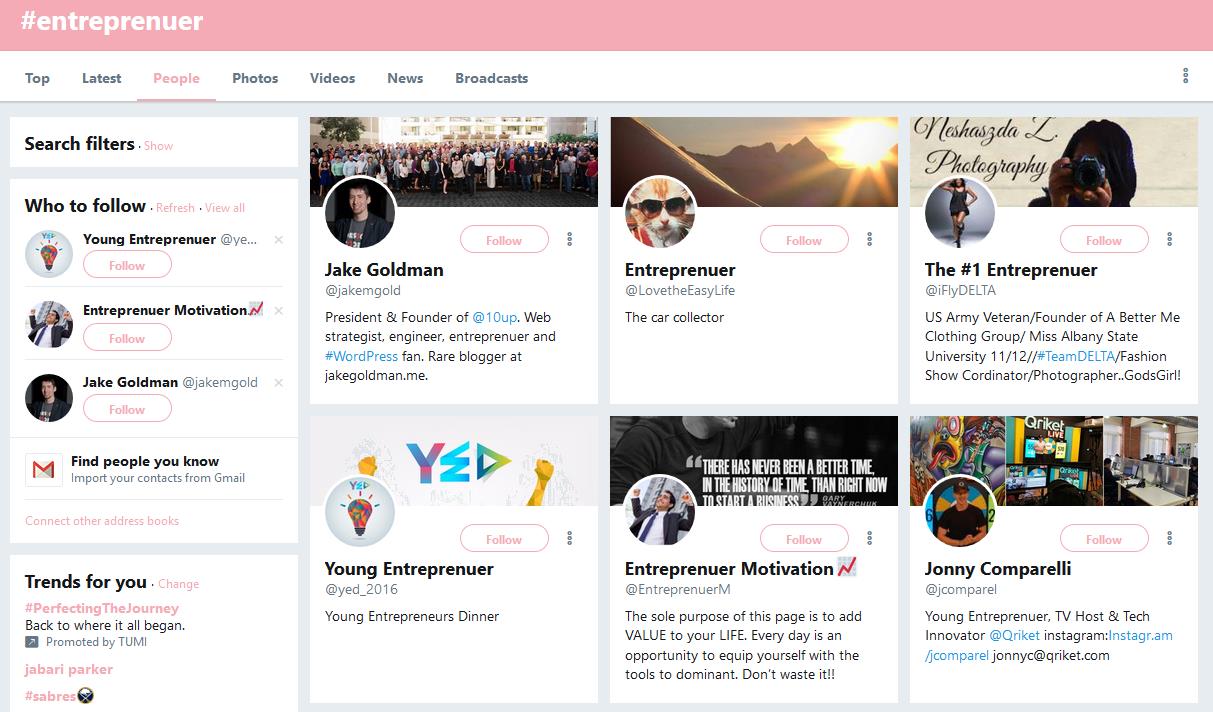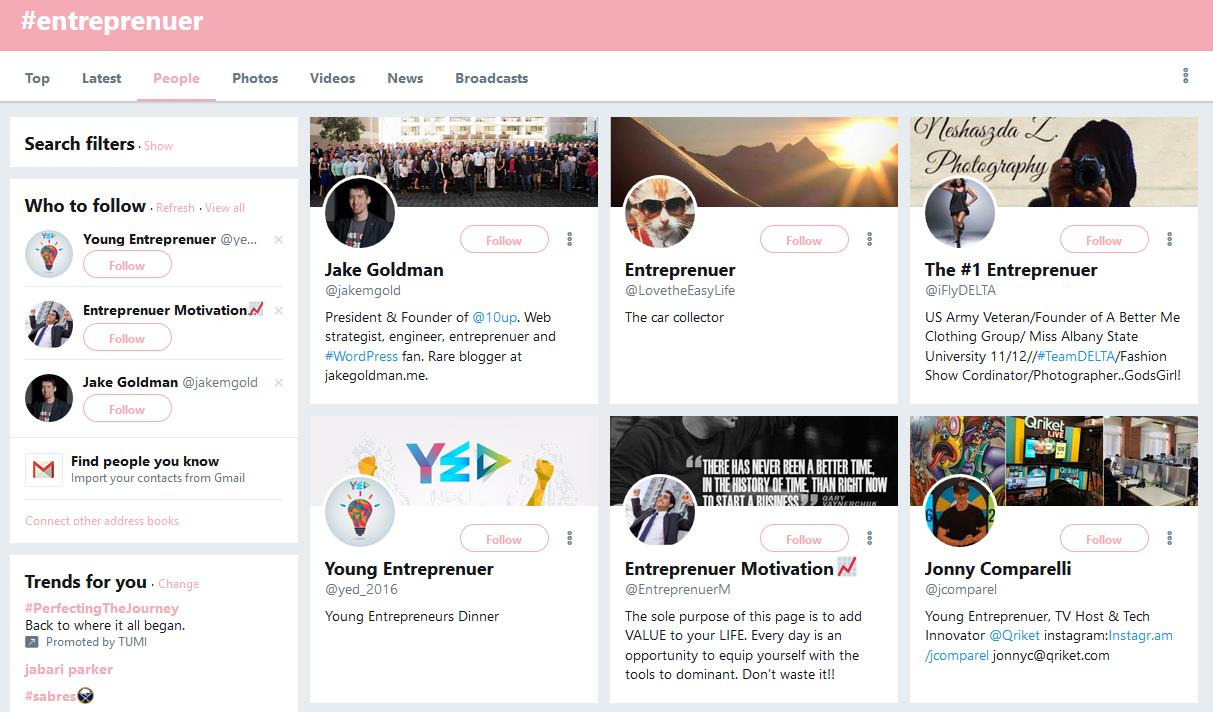 If they do, chances are high they post the same kind of content your target audience enjoys. It also signals that their followers are interested in similar topics.
Influencers with similar audiences are perfect for entrepreneurs looking to expand their audience reach.
Another easy way to seek out influencers is to use LinkedIn. Just type your industry into the search bar and click on the People tab: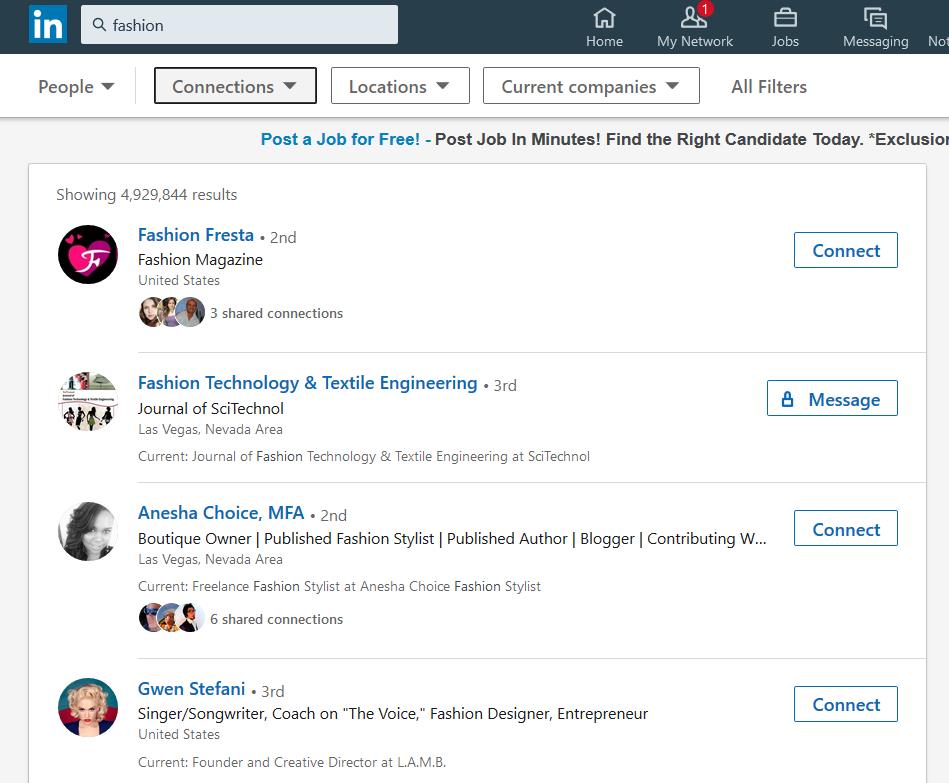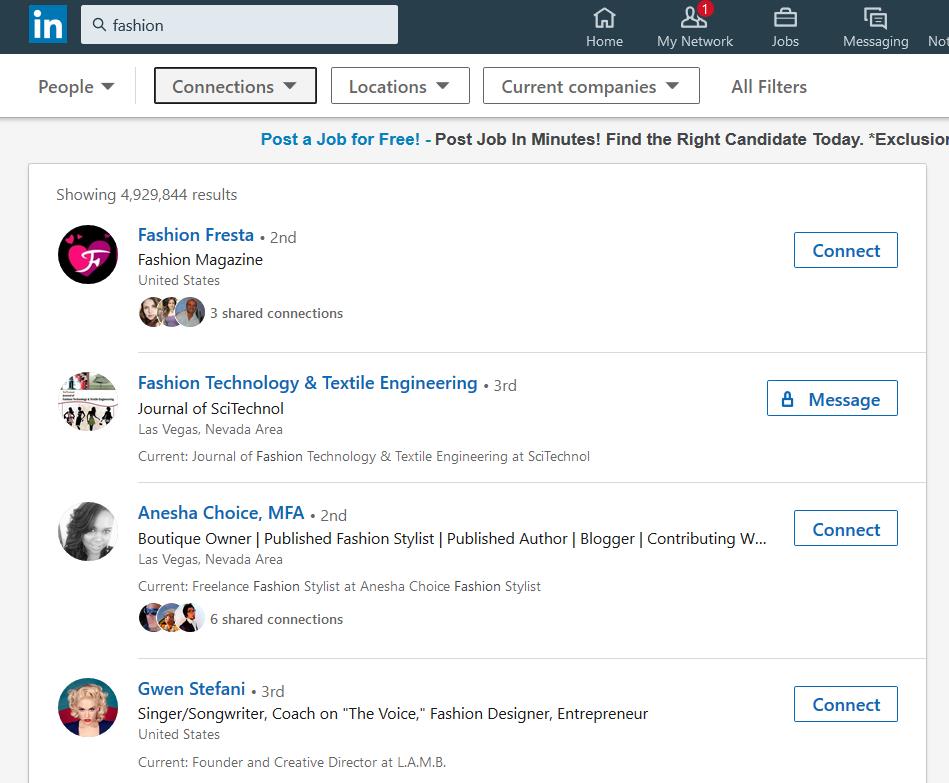 Here you can find tons of people in your industry, filter results as needed, and begin building a relationship with them by sharing their content and commenting on their posts.
Doing this will help when it comes to reach out and ask them to be your company's influencer.
You can also use a helpful tool like Phlanx to determine the engagement rate of prospective influencers.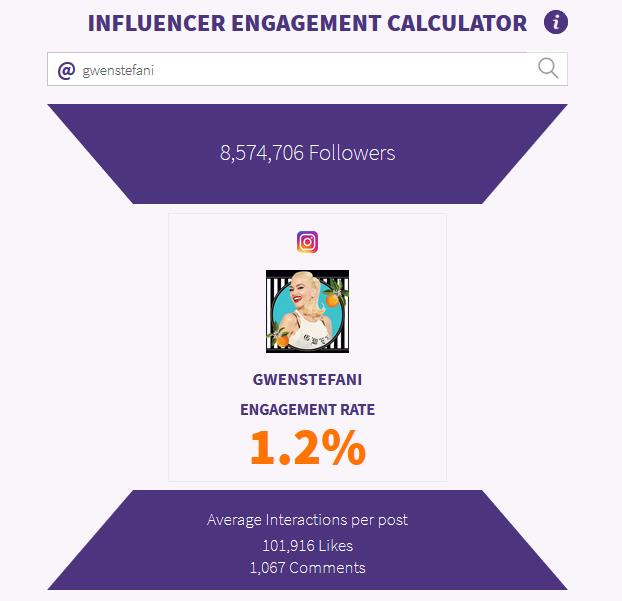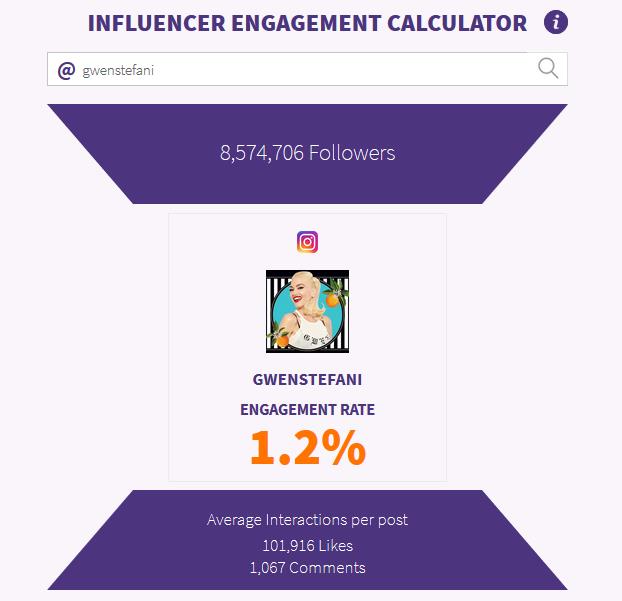 After all, you only want to use an influencer that has a high engagement rate.
You should also check out the number of followers they have, how many likes each post gets, and how many comments per post your potential influencer receives.
4. Educate Yourself on Influencer Campaigns
Once you find an influencer that wants to work with you, you'll need to set up some influencer campaigns.
There are many types to choose from, and some may work better than others.
Here's a list of the most common:
Affiliate Marketing: Create a unique discount code or affiliate link for your influencer to share with their followers.
Product Reviews/Mentions: Have your influencer promote a review of your product or service with a blog post, YouTube video, tweet, or another promotional method. Make sure they've used your product so people will trust their recommendation.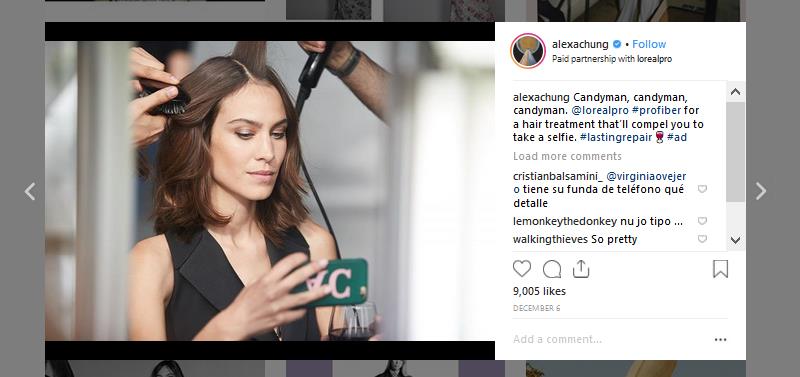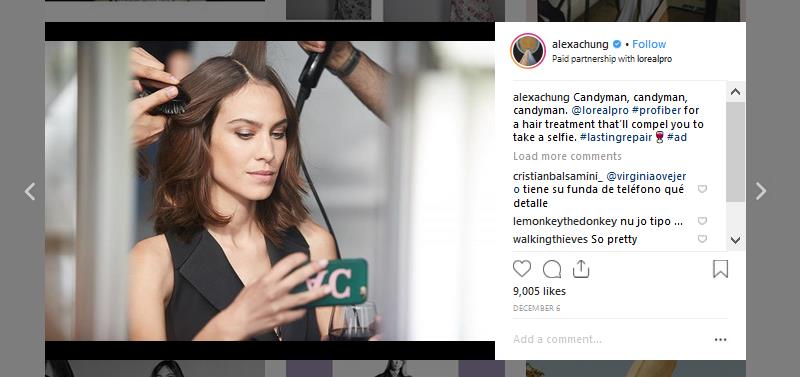 Run a Contest: Budget for a contest, sweepstakes, or giveaway and have your influencer promote it. Influencers love to give things away to their followers (it makes them more popular).
Speaking Events: If the industry you're in calls for conferences or other speaking events, hire your influencer to attend the event and promote it on their social media. Better yet, have them speak at an event you host.
Knowing which type of influencer campaigns your target audience responds to best will take some experimentation.
But once you pinpoint the type of campaigns that influence them to buy from you, you can expect to see lots of success.
Pitching to the Influencer
Once you've decided on the influencer you want to work with for your campaign, here are some things to remember as you first contact him for a possible engagement:
Be polite and amiable. Remember that you're the one who first wants to work with the influencer. Don't be rash or demanding especially in your first engagement with him.
Be concise. Be direct and concise about your intention to work with him. You don't need to beat around the bush as he likely has an idea why you're messaging him. The influencer may also be busy and you want to capture his attention the moment he reads your message.
Give an overview of your business. Briefly introduce what your business and brand are. Include your logo as well (this step sounds like a no-brainer but it's crucial). As a visual representation of your company, your logo helps him understand and remember your brand better.
Bonus tip: If you think your company's logo needs improvement, then be sure to spruce it up. There are logo designs and logo designers you can work with on sites like LogoMyWay to help you build an accurate visual representation of your company.
To visualize the impact your logo can have, take a look at the Facebook logo and the story behind it. The logo is memorable and goes with the platform's popularity now.
Do not dismiss the impact of having a superb logo. It will go a long way in the success of your business.
Make your offers punchy and irresistible. Finally, end your pitch with an offer he can't resist, like financial rewards, brand status, etc.
Track Your Results with Bitly
"Whether in business management, content marketing, or influencer marketing, Peter Drucker's "If you can't measure it, you can't improve it" quote hits the nail on the head."
If you are dead serious about optimizing your influencer marketing campaign, you need to take the time to measure your results.
It is only by doing so when you can figure out where in your sales funnel your audience are dropping, and which among your marketing campaigns are bringing in great results, among other things.
Bit.ly is a perfect tool for just that — tracking the effectiveness of your influencer marketing campaigns.
The strategy is pretty straightforward.
Instead of sharing your webpage's URL with the influencer, you run it first through Bit.ly so you can get a shortened URL (your Bitlink) — and be able to track the engagement you'll get out of your link.
The good news is, it's easy to use Bit.ly.
You just need to log in, click the "Create" button, click "Bitlink," insert your web page's URL, then click create.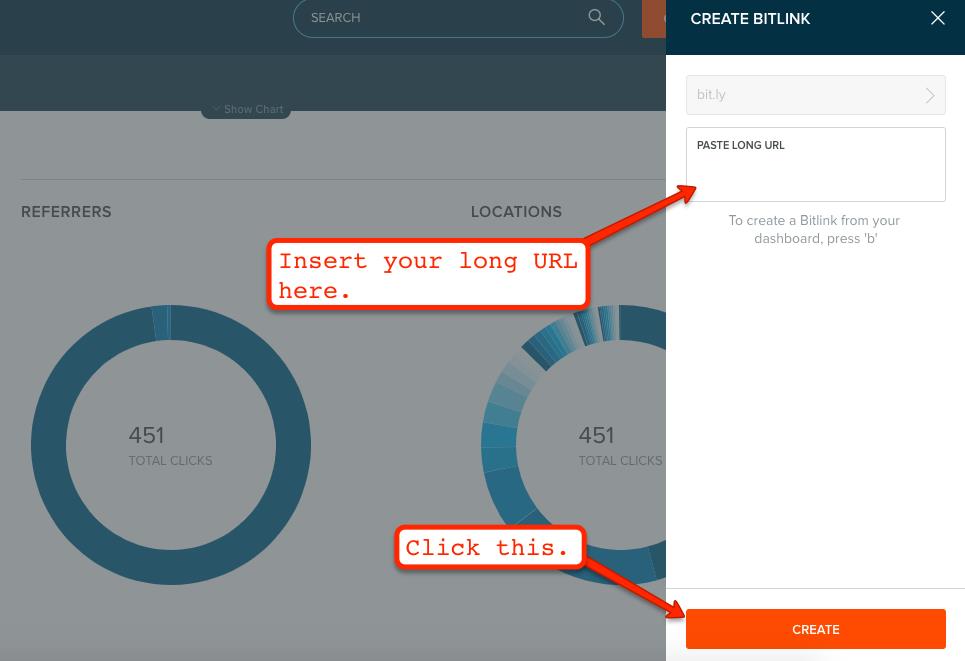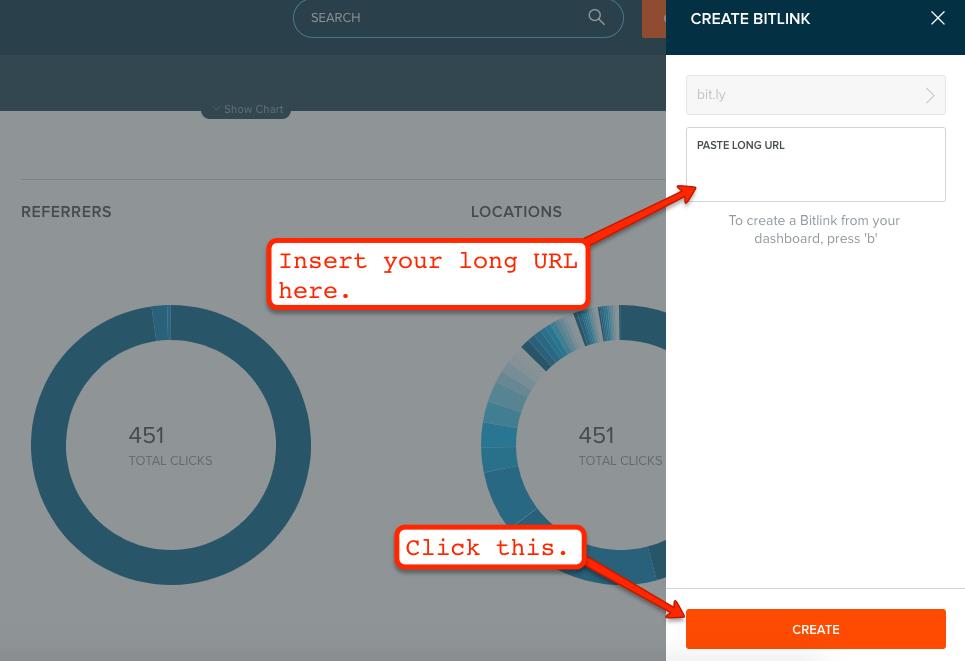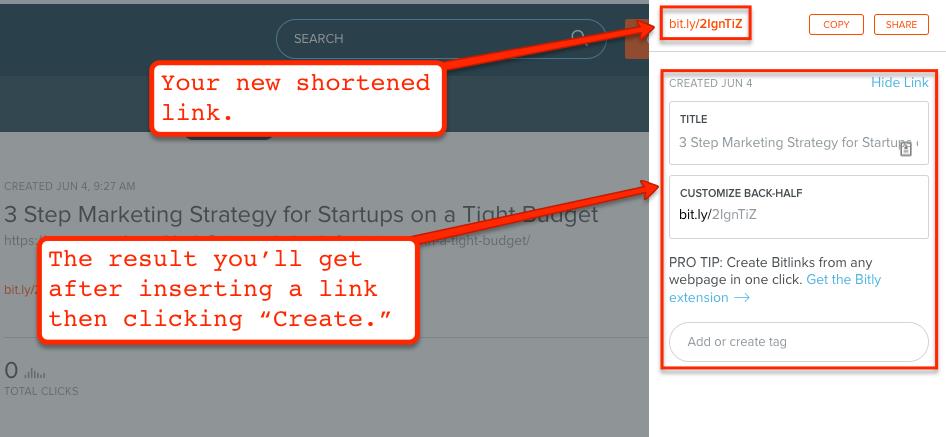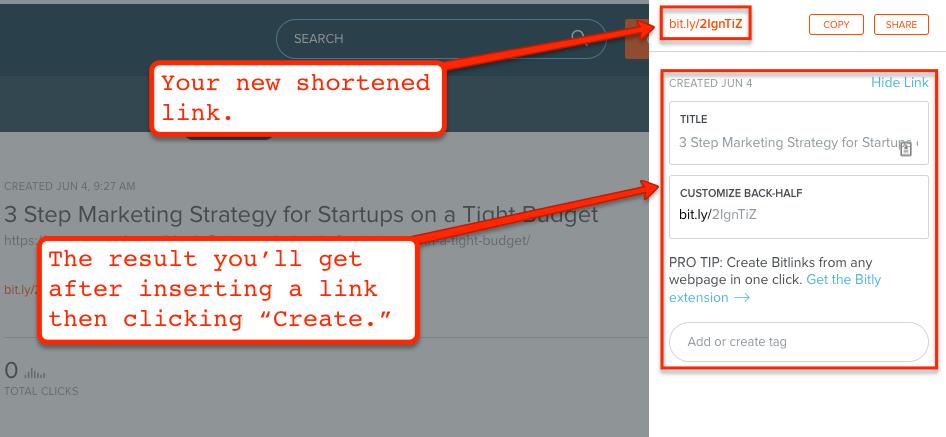 Now that you have a Bitlink, you can share it with the influencer instead of sharing your page's long URL.
Here's an example.
Supposing you own a dropshipping e-commerce store and you partnered with a Facebook page owner with thousands of followers to promote your product.
The influencer will then publish a post on his page with your Bitlink in it which points to your product page. The post will look something like this.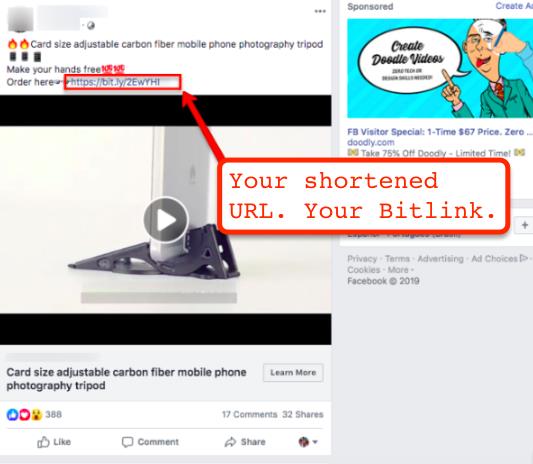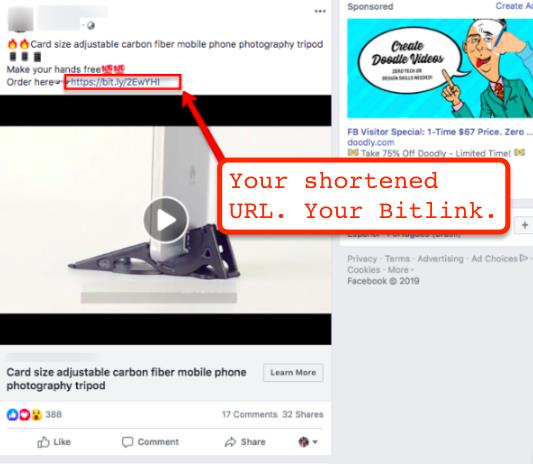 Because Bitly allows you to see the engagements you've gotten from your links, you'll be able to determine if your collaboration with the influencer yielded you positive results.
If you are using influencer marketing to grow your dropshipping sales, you can't forego tracking your links. You'll find that most comprehensive dropshipping guides will advocate link tracking because of how crucial it is.
By tracking your links using Bitly, you can view from which platforms/sites your link was clicked, how many times it was clicked, etc.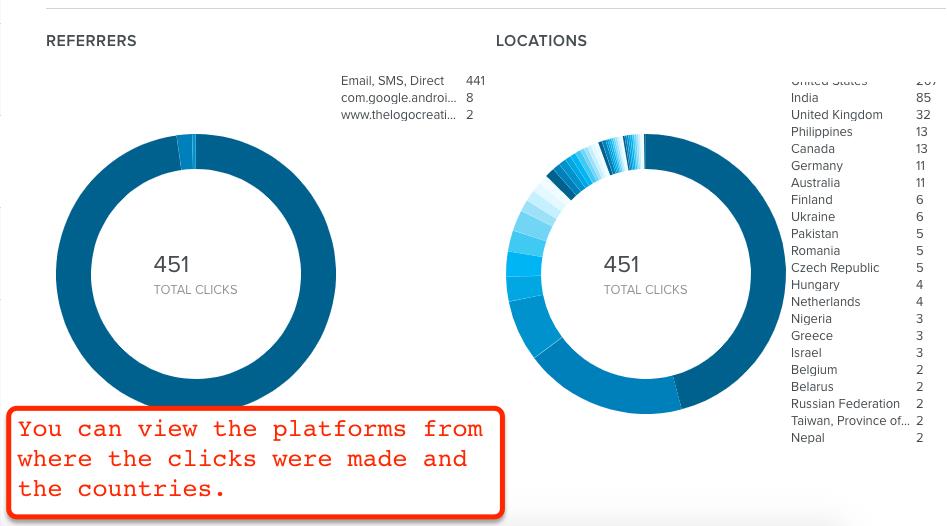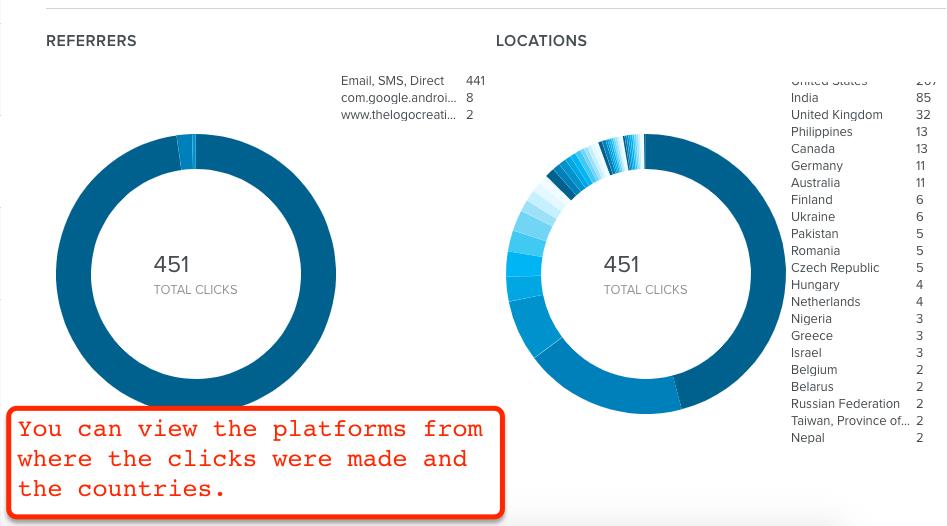 Those are just some of the many crucial data that you can obtain from Bitly.
With the numbers you'll garner, you'll be able to tell for sure if the influencer you partnered with was worthwhile.
Final Thoughts
Influencer marketing is one of the most effective ways to promote your brand to a broader audience and drive more sales.
People trust influencers as much as they do their own friends and family, and with the right person recommending you to their followers, you can scale your business faster than ever.
Just make sure to understand influencer marketing before you jump right in.
Knowing who your target audience is, where to find the best influencers for your niche, and the different kinds of campaigns you can run will make all the difference in how your business scales.