"I rarely have questions. But when I do, I prefer to use Quora." – From Quora.com
Quora has answers to EVERYTHING. Whether you need to find reliable assignment help in your preferred subject area or you want to know who discovered exams, Quora will never disappoint you.
Apart from providing you with a slew of answers, Quora is also an excellent platform for monetising your ads. This platform consists of over 200 million active daily users.
The revenue from ads on Quora is valued at approximately $1.8 billion. Quora was estimated to produce an ARPU of $0.50 in 2018. Thus, it has the potential to generate revenues of at least $112 million in the future.
Marketers can make the best use of Quora ads only if they are able to target the right audience.
You can't expect to gain revenue if you display ads about food to people, who are looking for little black dresses, can you? Thus, Quora has brought forth three new targeting options for marketers to target the right audience with relevant ads.
Let's see how to use these targeting options to make the most of this monetizing platform.
Keyword History Targeting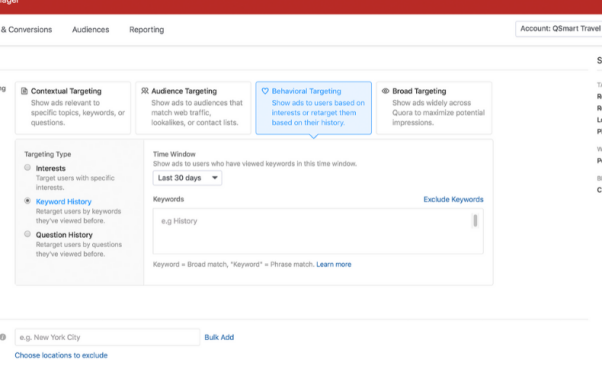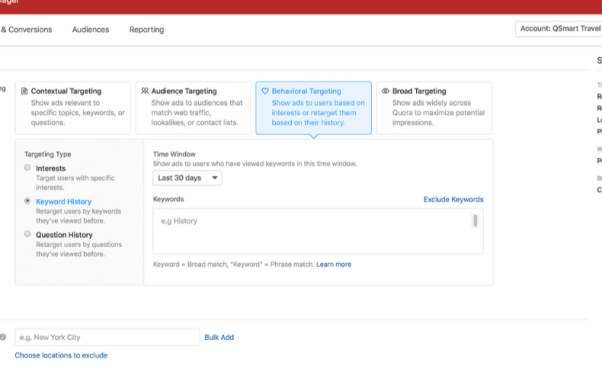 Quora already has a keyword targeting option and a question retargeting option for marketers to display the right ads. Keyword history targeting is a smart blend of these two options. This option lets you engage with the users who have already read the sets of questions relevant to your business objectives. You can connect with the people who have shared questions related to your nature of business on Quora.
This is what Quora has to say about keyword history targeting:
"For example, Keyword History Targeting works by taking a keyword like "Financial Planning" and finding matches with questions that contain the word or phrase, like "How do I start my financial planning?" Advertisers will be able to target ads towards users who visited groups of question pages in a given time period (ex. the last 20 days). Ads are shown on users' feeds, topic feeds, and question pages."
How can Keyword History Targeting help?
You can retarget users who have posted or answered questions closely related to your business.

It lets you bring quality prospect for users who expressed a strong intent for questions relevant to your field.

This option increases the chances of profitable conversions since you can target the right set of audience.
Create a new ad set and import your existing keywords in it (if you want.) Add your new keywords as well that have proved to be effective on other advertising platforms. Now Quora will automatically include relevant and new questions to help your ad set target the right audience.  Manage the ad set and let Quora do the rest of the task.
Gender Targeting

Does your organisation have products that are designed specifically for men or women? In that case, you can use gender targeting to target the right gender through your ads on Quora.
You can choose to target your users based on their gender. You can even use the default setting 'All genders' to target your audience irrespective of their gender. Simply put, gender targeting helps advertisers to focus on their ads more specifically.
This is what Quora has to say about gender targeting:
"You can apply gender targeting to any ad set, regardless of the default targeting option, so it's possible, for example, to create two topic – targeted ad sets, one with male-specific calls to action, and the other with female-specific calls to action. Similarly, if the audience for your product or service is only one gender, you can always exclude the other gender on all your ad sets."
How can Gender Targeting help?
It helps you align your products and the ad copy to reach your target audience better. You don't have to bother your female users with the ads of men's razors.

You can apply this option along with a primary targeting option. Thus, it gets easier for you to create two-topic targeted ad sets. One can have a female-specific call to actions and the other one can have a male-specific call to actions.

This option can come in handy even if you don't have any gender-specific audience.

31.6% of men

plan to spend more than $500, compared to

23% of women

. Thus, you can create customised ad sets for men or/and women on Quora.  
Quora uses a set of attributes to determine the gender of their users by analysing their profiles and buying behaviours. In case the platform is unable to determine gender, it places them in the 'Unknown' category.
You can target this category along with a specific gender to boost your leads and conversions. Do not forget to include the 'Unknown' category in your ad sets to reach the maximum number of people.
Platform and Browser Targeting
75% of smartphone users access Quora on their phones. Imagine the number of the target audience that you may miss out on if your ads are not targeted at specific platforms and browsers.
Therefore, Quora has brought forth the third option- Platform and Browser Targeting. Now you can target your audience based on device and mobile platforms. Simply put, targeting the right set of people for your ads just got 10X easier.
According to Quora,
'Advertisers can choose to target desktop and mobile devices, simultaneously or individually. With mobile targeting, you can choose to target iOS devices, Android devices, or all mobile devices. Campaigns optimising towards App Installs will automatically have their device settings changed to mobile only.'
How can Platform and Browser Targeting help?
This option lets you optimise your budget for the desktop and mobile ads separately. Mobile auctions consist of lower costs as compared to other filters.  Thus, you can optimise your budget for the bids placed for both campaigns.

You can further refine your options when you target users on the desktop. You can choose from a list of browsers such as Firefox, Chrome, Safari, etc.

Having two separate campaigns based on desktop and mobile phones can help you evaluate the performance of your ads for optimisation purposes.
For desktop targeting, you can target all kinds of browsers, as mentioned above. For mobile targeting, you can target both Android and iOS devices. It is always suggested to separate both the campaigns to increase or decrease the bids as and when required. Say you have designed a software that suits a specific browser only. Use the 'Platform and Browser Targeting option' to show the ad of your software to people who actually use that browser.
Wrapping Up,
Owing to its huge client base, Quora is most certainly one of the best advertising platforms for your business. The new targeting options will help you target the right set of audience easily.
You don't have to waste money on bids that may not bring good revenue. Use these targeting options and display your ads to relevant Quora users.
— Henry Howkins is a content marketer at a reputed company in Australia. He also offers homework help to students at Assignmenthelp.com.sg. Henry loves to bake cookies in his free time.