Are you ready to see what 2020 has in store for us?
With each year technological advances are only going forward, shocking us with all the useful and helpful tools that are emerging. Marketing has always been affected by technological innovations since it is essential for every business and every industry. 
Sometimes it is hard to keep up with all the trends considering the fast pace of technological progress. That is why insights such as this one help you to keep up and get acquainted with potential marketing options that you can use within your business.
If you don't want to be thrown in the shadow by your competitors, you need to follow the trends. Here are marketing trends of the year 2020 that you simply must know about.
1. Messaging Apps are Replacing Email 
WhatsApp, Viber, and WeChat have grown quite close to our hearts and businesses are using that insight to connect with the customers in a better way. Instead of using emails, companies are turning to message apps.
Besides fast and efficient communication, these messaging apps help with marketing efforts by establishing a more personal connection with the users.
Some major brands have already adopted this trend. Sephora was the first beauty retailer that used a messaging app by creating their chatbot on Kik. Through this, they offer product recommendations, makeup tips, video tutorials, and customers can even buy products from the app.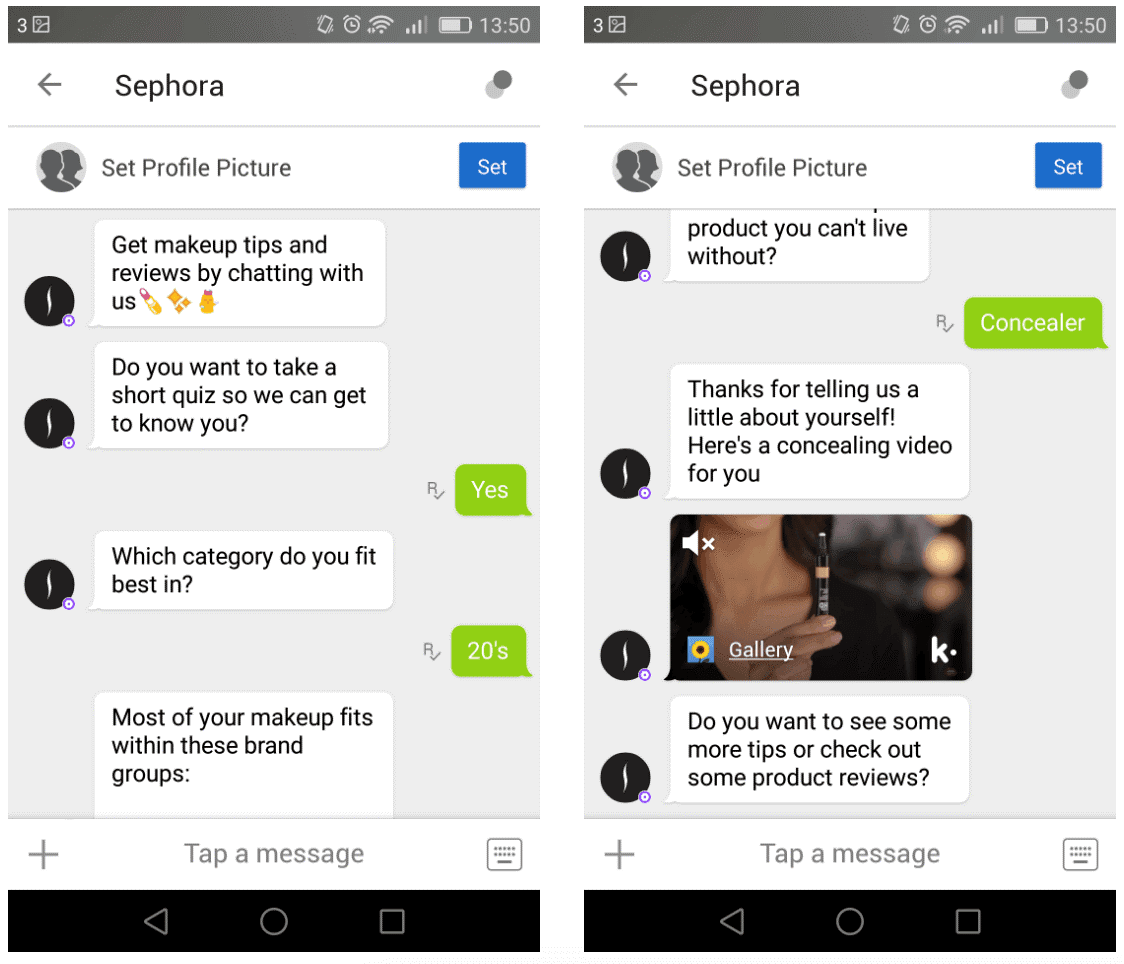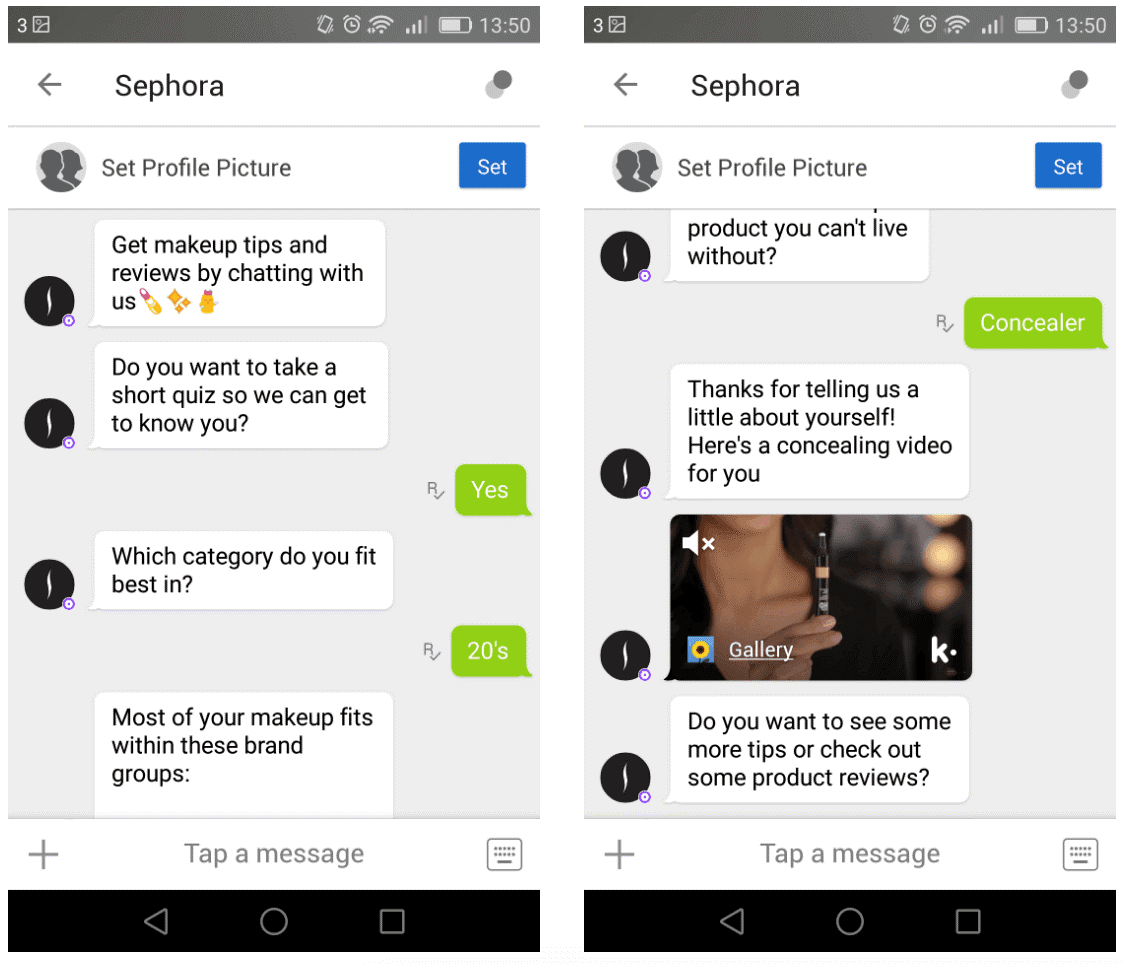 2. Google Welcomes BERT in the SEO
You'll have to rethink your SEO strategies since Google is stepping up their game with BERT. BERT stands for Bidirectional Encoder Representations from Transformers and it presents a deep learning algorithm connected to natural language processing.
Google explained the purpose of BERT, "Well, by applying BERT models to both rankings and featured snippets in search, we're able to do a much better job helping you find useful information. Particularly for longer, more conversational queries, or searches where prepositions like "for" and "to" matter a lot to the meaning, Search will be able to understand the context of the words in your query. You can search in a way that feels natural for you."
This means that companies will need to provide well-written, clear, and high-quality content if they don't want to experience a decrease in traffic. You can't fool Google anymore. 
3. Voice-Powered Search is Growing in Popularity
While we're talking about SEO, you should know that you'll also need to focus your SEO efforts on voice searches. Therefore, conversational language is more efficient for optimization.
Another way in which you can exploit voice search is to use it as your voice assistant. Voice assistants are a handy technological innovation that is becoming more and more used in marketing.
"Alexa and Siri can do your search and write text messages with a voice command while you keep your hands occupied with something else."
4. Hyper-Automation is Stepping on the Scene
As Gartner explained, "Hyper-automation deals with the application of advanced technologies, including artificial intelligence (AI) and machine learning (ML), to increasingly automate processes and augment humans."
This phenomenon doesn't just refer to tools but also to aspects of automation like discover, analyze, design, automate, measure, monitor and reassess.
Businesses need to adopt tools that can work together in order to establish hyper-automation. By using hyper-automation, your marketing team can always be informed and use data-driven insight for improving your marketing performance. 
5. All-In-One Marketing Software Solution will Dominate
On average, enterprises use 1,427 distinct cloud services. The variety of marketing technology solutions is overwhelming for companies.
To take off this load, businesses are opting for an all-in-one marketing software solution. Having all the necessary tools for marketing within one software streamlines your efforts, makes it more manageable and helps you document the process easier and faster.
Single Marketing Software like ActiveCampaign, Pardot, and Marketo unburden the cloud and help you to reduce the tedious work. 
6. VR and AR Will be More Common
Virtual reality (VR) and augmented reality (AR) used to seem like futuristic innovations whose existence is questionable in the real world. Nowadays, they are slowly taking over the companies that see this as an opportunity to beat their competitors.
As this technology becomes cheaper and more approachable to brands, its use is becoming more common in marketing.
"With VR, you can put a client into the experience so they can understand and assess the experience beforehand. Now by integrating VR and AI, attendees who have chosen the things they'd like to get out of it can have a virtual assistant guide them through the event. That guide may be visual or using prompts like bots," says the We Keep founder Nigel Ruffell who talked about the benefits of using VR and AI for promoting events. 
7. Chatbots for Better Customer Experience
AI is becoming something like the most reliable employee to all marketers. With constant advances in the field of AI, in this year, it is expected to make a huge difference when it comes to customer experience.
"Chatbots have made their appearance before, but now they plan to dominate in the Customer Service Segment. They will become more "human" so customer satisfaction will rise with this personalized approach"
By promoting products and making recommendations, chatbots are taking over the role of marketing agents. 
Some Final Thoughts
The year 2020 has sneaked up but it will definitely be a year to remember with all the innovations and effective trends in the world of marketing. As we all know, marketing is a field that demands that you keep up with the trends if you want to stand out among the competitors. 
Whatever your outcome was in the previous year, this is your chance to step up your game and take your business to the next level. Just make sure that the trend you choose matches your objectives so embed the technology just for the sake of following the trends. 
— Daniela McVicker is a passionate digital marketer at  TopWritersReview