The good old Microsoft Office containing your favorite documentation apps like PowerPoint and Word has evolved to become the office-goer's best friend.
In the latest release going by the name of MS Office 365, the product has received powerful upgrades to its already loved features. Office 365 runs on the cloud and offers next-generation collaboration options for organizations. Modern offices run on emails, attachments, and files, that often become quite chaotic to manage. Poor management leads to low productivity and a lot of time wastage in getting simple things done.
" In a report published by Enlyft, there were nearly 1.3 million companies around the world that use MS Office 365, with a 36% market share in office productivity tools. "
Such high adoption is a clear indicator of how Office 365 is bringing disruption in this industry. But, what are the key factors driving this change? Let us consider one by one.
> Server Freedom
Being on a cloud platform is inevitable for offices, may it be on a CSP or on-premise. Office 365 offers both the alternatives allowing companies to stop worrying about server management.
It can be deployed using the Azure cloud platform which reduces the IT manpower expenditure for organizations and they get to utilize their human resource for core competencies. It's especially true for startups who have smaller teams and can use some reduced server management burden from their heads.
> Highly Scalable
Office 365 plans and usage criteria are highly scalable. Depending on your organization's size and usage needs, you can pick and choose the products you want.
The server specifications required to run Office 365 are also scalable. You can increase storage requirements as your organization grows or shrink them if need be. This is called the "pay-as-you-go" model which is quite effective for bringing cost-effectiveness to your budgets.
> Next Level Collaboration
Office 365 offers real-time collaboration for teams, where multiple members can edit the same document together. No need to download and email the document, Office 365 can be accessed online from anywhere.
But what about the scenarios where someone is not at the workplace or doesn't have their PC with them? No worries, Office 365 works on Phones and Tablets while the same files can be accessed from anywhere in the world.
Office 365 also integrates with SharePoint, which is another industry-leading solution for enterprise productivity. If your organization plans to implement BYOD, you'll be set up just right for it.
> Easy to Migrate
Migration is a huge hassle when you're trying to shift platforms and it often becomes a deal-breaker for offices in case they want to try another technology out.
Considering the case in point, Microsoft has made several options available for making migration easy. Migrating to Office 365 along with your users and mailboxes can be done in a number of ways, guaranteeing a safe transfer of data. Read more about executing a reliable migration to Office 365 at your organization.
How to get the best Migration Experience with Office 365?
MS offers official documentation on how to plan and execute the migration process. The fact that it's not only easy but reliable gives a lot of confidence for business owners who see MS Office 365 as a viable solution.
To break down the migration process, here is what you'll need to answer.
How many mailboxes are to be migrated?
What is the size of each mailbox?
Does your data reside in the same geo-location?
Do you wish to migrate all-at-once or step-by-step?
What are your service availability constraints?
Here is an estimation of the time required to migrate the mailboxes.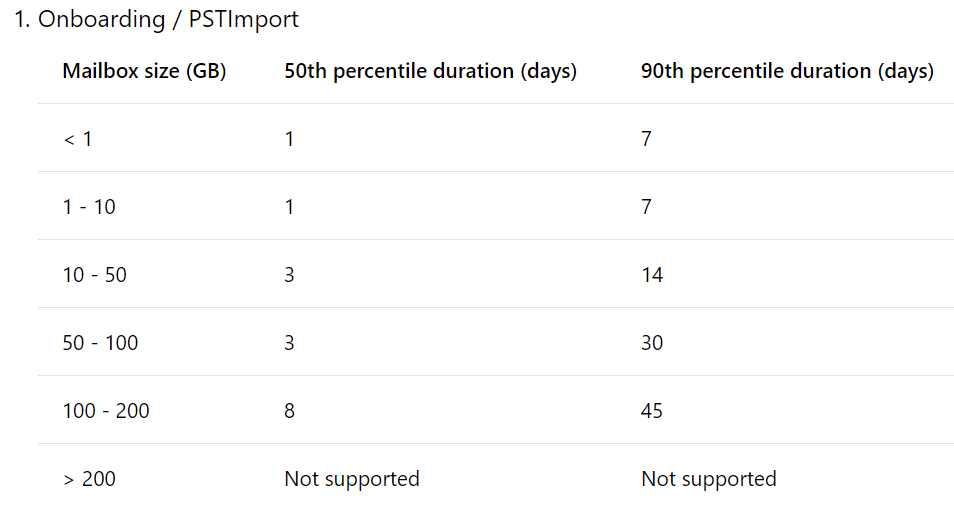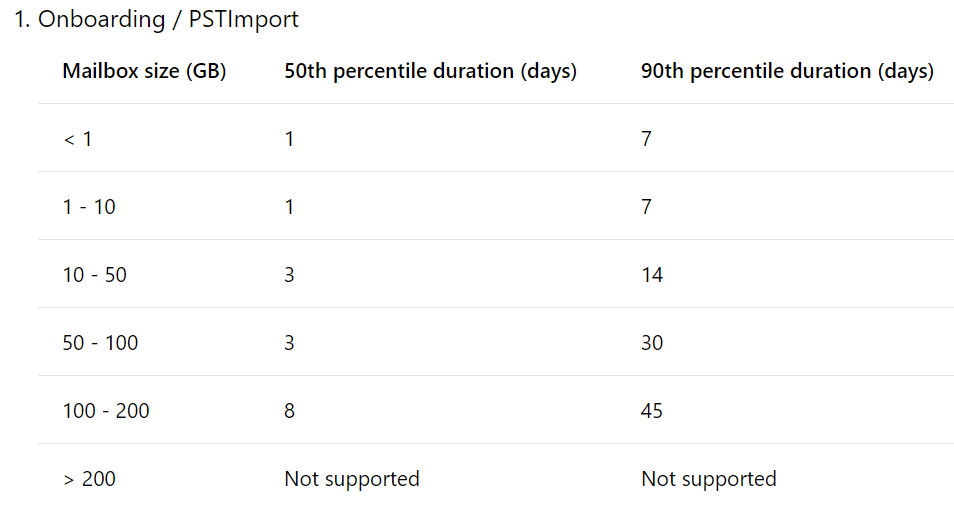 Modes of Migration for Office 365
> IMAP Migration
If you're using Gmail or Yahoo as email clients for your company, Office 365 offers IMAP migration for the same. Using the Exchange admin center, you would be able to upgrade Gmail inboxes to standardized Office 365 app suite, where you can use your email in collaboration with other Office apps.
> Cutover Migration
Cutover Migration offers an all-at-once method where all of your organizations' mailboxes are to be migrated. This is a comparatively slower method and may take up to days for complete migration. The upper limit for this mode of migration is 2000 mailboxes in one go. You can learn more about it in MS documentation.
> Managed Third-Party Migration
There are third-party solution providers who'd consult your migration needs and carry out the entire process for you. These could be third-party software clients or IT providers who offer seamless migration without having to stall your current workflow or wait for resource availability.
For Instance;
SkyKick – provides automated migration for public email providers.
LiveRoute – managed IT and migration provider for Office 365 and Azure datacenters.
TransVault – Office 365 migration provider.
Important Factors to Consider While Migrating
Migration is a huge decision and skepticism is bound to rise when such a decision is to be taken. Hence, we have listed a few factors that'll help you plan your migration well. These factors determine how quickly, how cost-effectively and if it all you should migrate to office 365.
> Your Legacy Systems
The type of email client you use and the configuration of the mail server at your organization can produce specific constraints while migrating. For instance, if you're using Gmail, there are some restriction on how much data can be pulled out of it in one go. Similar restrictions also apply in the type of computers and storage system you're using.
> Type of Data to be Migrated
Sometimes, the nature of the data contained in mailboxes also becomes the factor for fast or slow migration. It could be the case with you that you have tons of data in your mailboxes that are highly fragmented – which usually takes more time. In case the data exists in ordered batches, migration will be quicker.
> Office 365 Features
MS Office comes with internal features to ease the management of migration and provide users with the ability to handle the migration. This can work in favor of organization moving a large number of users to Office 365 and also make migration reliable.
Conclusion
Office 365 is a path-breaking product for making your Office life easier and to increase the efficiency at which the work is done at your office. With cloud-enabled features, it's adding more feathers to its hat every day.
Migrating to Office 365 is easy if you plan it right, and can be done in days, if not months. Choose your migration option carefully and get to experience the best of Office today!