2020 has been an epic year in terms of changing social norms and the adoption of mobile solutions. With growing restrictions on movement and increased indoor stays, the use of smartphones and mobile apps have been at an all-time high. 
"With nearly 3.5 billion smartphone users worldwide, it is no surprise that the app industry is thriving." 
Technological advancements are a norm in the mobile-driven world. However, it is crucial to distinguish the advancements that remain trendy from those that sink into oblivion. This article explores some of the major advancements in the mobile app industry that will dominate the app world in the coming years. It also provides an overview of the market growth so that app developers and businesses can know where they are currently standing. 
Without further ado, let's begin!
Growth of the Mobile Application Market:
The app industry has seen immense growth in the past decade, and there are no signs of it slowing down in the foreseeable future. According to statistics from App Annie, 2019 saw a record 204 million mobile app downloads, a number that will soar to 592 million by the end of 2020. 
The global mobile app market also saw huge growth in revenue during these years. From a meagre financial state of $97.7 billion in 2014, it is predicted to touch $581.9 billion in 2020.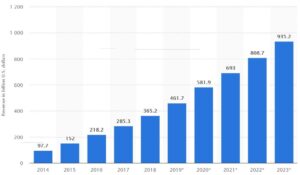 A massive rise has also been witnessed in the usage of various monetization models by app developers. The growth is mainly driven by the high potential of smartphones and mobile apps, which now find applications in all spheres of life. 
Let's take a look at five major advancements that will potentially determine the future of mobile app development.
Blockchain
The advancements made in blockchain technology keep it no more limited to digital currencies and the finance world. The technology has already revolutionized industries like healthcare, real estate, education, and is now making inroads into the app development segment.
Blockchain addresses the security and data privacy issues that concerned app developers and end-users alike. It encrypts data and saves it with a cryptographic hash that is considered impassable. And thanks to the blockchain's decentralized architecture, there is a lesser risk of third-party mobile apps causing chaos.
Blockchain also improves the reliability of mobile apps due to its robust infrastructure. The technology works on nodes/systems dispersed worldwide and synced with each other. The presence of numerous nodes makes sure that the data is copied across several devices in different settings, thus reducing the risk of data theft or losses.
Many app developers and tech businesses are trying to build apps that can leverage blockchain's ubiquity and the unlimited power of the distributed ledger technology.
5G Technology
Much has been written about the benefits of 5G networks and how it will revolutionize next-generation mobile connectivity and services. The introduction of 4G technology accelerated the mobile app age, but we are now reaching a point where we will need more advanced connectivity to handle the growing data-driven applications. 
5G networks promise to strengthen mobile connectivity with higher bandwidth, reduced latency, and data speeds up to ten times faster than the existing technology. For the mobile app industry, 5G networks will influence the way people use apps and present new opportunities for app developers. It will also enable developers to integrate other technologies such as AI and VR into apps more effectively. 
The fifth generation of mobile networks will specifically expedite the growth of cloud-based mobile applications. It will be a monumental step in an age where we rely on our smartphones for accomplishing most of our tasks. By placing the mobile app's data in the cloud, users will be able to access mobile apps and run them on their phones without any limitations of processing power or storage on the device.
On-Demand Apps
On-demand apps are mobile applications that enable users to access services at a time and physical location of their choice. These apps bridge the gap between customers and service providers by allowing real-time interaction and transaction. 
The on-demand model gratifies consumers' requirements in a far more profitable and resourceful manner than other business models. Logistics, healthcare, transportation, groceries, and food industries are the leading categories leveraging the on-demand model. Will apps like Uber, Netflix, and Airbnb, consumers can now travel, entertain, and book their ideal stay anywhere and at any time with just a tap on the screen.
According to the Harvard Business Review, on-demand services follow an ascending curve by attracting over 22.4 million consumers and generating $57.6 billion in revenue every year.
Chatbots
Chatbots are programs that can interact with consumers in real-time through a messaging interface. These AI-powered tools can help businesses solve their problems by sending personalized messages and improving their interaction with customers over time. According to a report by IBM, businesses spend nearly $1.3 trillion to address customer requests every year. Chatbots could help them reduce the costs by at least 30 per cent.
Although the technology is still in its infancy, millions of people are already using it. As per the eMarketer research, over 35 million US citizens use voice-activated assistants at least once a month. Chatbots may not replace the need for human-to-human interaction anytime soon; however, players like AirG are trying hard to implement them and ensure an airG scam-free interaction. 
Apps for Foldable Devices
Smartphones have changed significantly over the years. From button and foldable phones to touch screens and now back to foldable phones, they went through several modifications. Foldable smartphones are making a comeback in the shape of Samsung Galaxy Z Flip and Huawei Mate X. The next big trend that developers need to consider is to build apps that can cater to the varying screen size, ratio, and density of foldable devices.
Final Thoughts
Mobile apps have become a convenient source of contact between users and businesses. But when it comes to getting the most out of it, you've got to keep abreast of the latest advancements in the app world. Businesses need to align their app development strategies accordingly and capitalize on these trends.
                                                                        —  Michelle Joe is a blogger by choice. She loves to discover the world around her. She likes to share her discoveries, experiences, and express herself through her blogs. You can find her on Twitter: @michellejoe524