Internet of Things, one of the most talked about technical terms in the present era, has been impacting our lives in a wide variety of ways. Starting from helping us built the smartest home automation solutions, cities, manufacturing methods, wearable etc., to transforming the way healthcare, banks and businesses function, there is a lot that IoT is capable of doing.
How is IoT benefiting society?
IoT technology is not only benefiting individuals, but it also benefits the corporate world and even society as a whole. IoT is cataloging our everyday objects with machine-readable identification tags. Therefore, the sensors along with these tags are used to gather more data related to the condition the daily objects and those existing around them.
IoT based devices not only help the experts to do smart innovations, but they also help to save a lot of time while monitoring. Also, when it comes to managing and monitoring, IoT based devices are not very expensive as opposed to other resources. IoT has even made it a lot easier to manage intricate data without any hassle.          As IoT based tools basically use sensors, therefore, they are considered very fast and efficient.
Internet of Things is not only a technology for the corporate world, in fact, but it can also be very easily implemented in our homes as well. Homeless Management Information System (HMIs) or the Intrusion Human Machine is basically the keypads that act as a central user interface to control the home security solutions. And, these Intrusion Machines are used by the world to make interesting use of IoT technology.
IoT-enabled smart city will include many areas like contributing to a stronger environment and enhancing traffic to improving public security and optimizing road lighting. Here, we offer a survey of the most successful applications that are already completed in smart cities over the world.
How are IoT based devices helping the cities grow smarter?
Road Traffic: Smart cities guarantee that their residents take from a place to other places as reliably and efficiently as possible. To obtain this, cities are started to base on IoT development and execute smart traffic resolutions. A large number of companies are making high-tech products to make cities as smart as possible. These things are aimed to not only decrease the costs but are also aimed to limit the consumption of resources in cities like surveillance, lighting, integrated system control etc.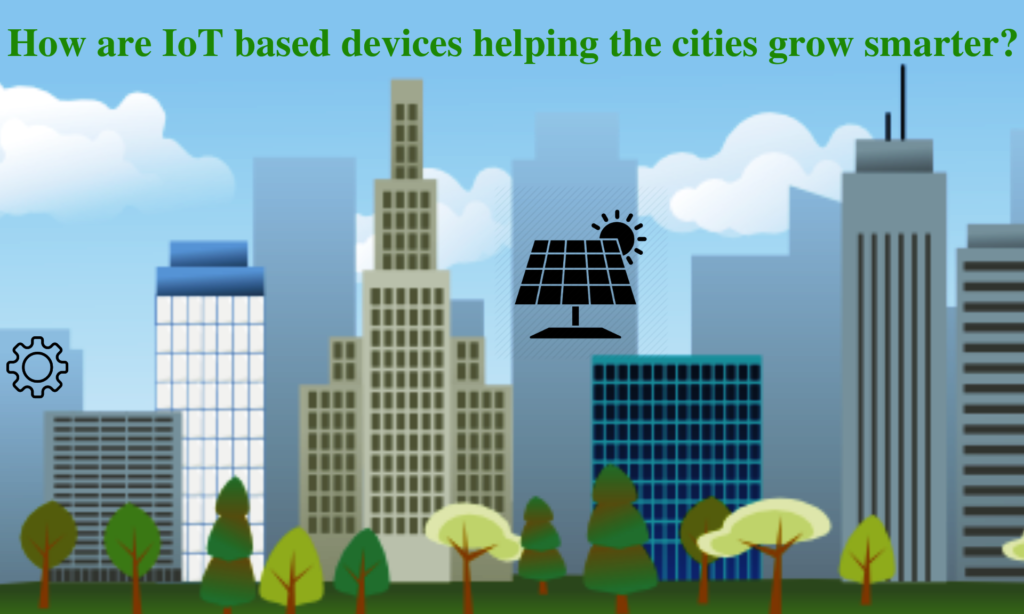 Smart Residential e-Meters: IoT is responsible for making the cities smart with the help of the high-end new inventions and implementations like smart residential e-meters. With smart e-Meters, cities can give residents cost-effective connectivity to service organizations' IT systems. Smart e-meters can send information directly to public service across a telecom network, giving it strong meter readings. Smart metering enables service organizations to bill perfectly for the cost of water, energy, and gas used by each family.
Smart Street Lights: Some of the other implementations through IoT can be things like smart street lights that have superb capabilities of automatically dimming and brightening as per the surroundings. This will eventually lead to a lot of power consumption.
Smart Camera and Detection System: Things like e-surveillance cameras and the water or gas leakage detection systems are some of the other implementations that IoT based tools can do to make the cities much smarter. For Example, 90+ cities around the United States has a gunshot detection solution. The gunshot detection solution has attached microphones placed everywhere in a city. Now the data coming from microphones go to the cloud platform, which examines the sounds and identifies a gunshot. The platform will check the time it used for the sound to transfer to the microphone and determines the place of the gun. When the gunshot and its place are recognized, cloud software informs the police using a mobile app.
GPS Trackers: IoT plays a major role in controlling the traffic on the road. Smart cities need to have smarter and quicker transportation systems. They should implement ways to save their residents from getting stuck in traffic for hours. Smart devices can help a city to control traffic. The GPS trackers in the mobile apps or the in-vehicle sensors and the road-surface sensors are wonderful inventions to prevent traffic jams. Also, the smart traffic lights linked to a central cloud management system make it easy to change the timings to prevent congestion.
Sensors and Actuators based Lights: IoT-based smart cities are making use of the perfect tools to make their streets brighter using economical methods. Sensors and actuators equipped lights on the street are linked to a cloud management system, and they act as superb IoT devices, making it easy to handle the street lights remotely.
Smart Citizen Portals: IoT based devices can also be used to create fantastic citizen portals and some of the cities have already started doing it. These portals enable the residents to anonymously report crimes. Plus, they can also look for the nearby police station when in need. Not only that, even things like looking for a parking place, to reviewing the public transport schedules a lot of things can be done on these portals.
Enhanced Safety: Superior Safety of the citizens can also be ensured through IoT based devices. Many smart cities are using video monitoring systems to manage the safety problems which may arise in the thriving cities. A large number of cameras monitoring roads for accidents along with the streets for safety concerns are being implemented. With the help of IoT technology, each camera is linked to a system into a sensor. And, with the help of edge computing and analytics, the results are made better.
Field Gateways: Implementing useful field gateways. The data collected by the sensors cannot go right to the cloud, and it is mandated for it to pass through the field gateways. Only after proper filtering, it can be moved to the cloud.
Healthy Environment: IoT based tools can also be used to keep the smart cities clean, green and safe. By tracking the parameters which are important for a healthy environment, cities can implement strategies to make sure that the needs are fulfilled. Say, sensors can measure the pH levels of water to check the quality etc.
Though, to have these advantages, the government should do a compatible strategy to design a working and scalable smart city structure. IoT based smart city projects are transforming the world by developing cities with smart public transportation, better infrastructure, less traffic congestion and overall better quality of living.
Starting from creating efficient and economical cities, to taking good care of the residents of the cities, IoT devices are capable of doing a lot more than we expect. Also, they play a major role in keeping a track of the degrading environmental conditions, so that the environment of the smart city can be made better. Overall, the smart city projects seem to be very interesting, and the future of such projects is bright thanks to the implementation of IoT.
Author Bio
Vaishali Maru is Content Writer Cum Digital Marketer in Nex Software – Software Consulting Company in India. Vaishali Maru has the degree Master of Computer Applications and she is writing content on different technical topics. Contact her on Twitter(@VaishaliMaru4) now!